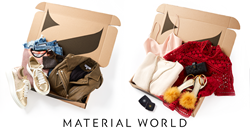 "The First Fashion Subscription Service Focusing on Sustainability"
NEW YORK (PRWEB) January 23, 2018
Introducing Material Box —Today, Material World is announcing the official launch of their subscription service, Material Box, as a complementary component to their already popular Trade-in service. Material Box pairs customers with their own personal stylist, after completing a style profile that expertly narrows down their style based on preferences, fit and budget. Each box contains five curated, pre-owned designer items in great condition that have a total retail value over $1,000. Brands included range from popular contemporary brands like rag & bone, DVF and Theory to luxury brands like Gucci, Chanel and Chloe, and are priced at up to 90% off retail value. The Material Box is sent straight to their door monthly, allowing customers to try on designer fashions in the comfort of their homes, keep what they love, and return the rest along with any items from their closet they no longer wear. The $25 styling fee is waived if they buy at least one item, and they can earn as much cash as they spend by constantly trading in older pieces with each new box received.
Unlike traditional subscription services, Material Box is the first fashion subscription service that focuses on sustainability. Not only is the Box sustainable, constructed from 100% recycled materials, each item placed inside the Box is pre-owned, acquired through their Trade-In service. What sets Material Box apart from other subscription services, is the added benefit of providing customers the ability to send items they want to trade-in, with their returns from Material Box. They can earn upfront cash or shopping credit for their trade-in items, encouraging each shopper to take part in the circular economy and extend the life cycle of high quality fashions.
"The Material Box is an experience that is truly sustainable, both for the environment and for the wallet. Since each pre-owned designer piece we carry is unique, we are excited to delight customers with hand selected pieces monthly that they can enjoy for as long as they like, after which they can trade it back to us to reclaim the value and pass it forward" says Rie Yano, co-founder and CEO.
With the fashion industry's directed focus on the circular economy, Material World continues to be a pioneer in the realm of sustainability. Always at the forefront of evolving the minds and closets of consumers and facilitating a lifestyle that makes it easier to pass it forward and focus on slow fashion.
About Material World
Material World (http://www.materialworld.co) is a NYC-based fashion recommerce company founded in 2012 that provides a modern and fun way to shop and refresh your closet. Material World offers a trade-in service for customers to reclaim the value in their closet and get paid upfront, an eCommerce store for pre-owned designer items, and Material Box, a monthly fashion subscription service to try on personally curated fashion pieces at your home.