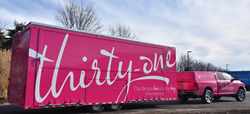 "With our customers' help, we've become one of the largest direct-selling companies in the world and we want to thank them," said Cindy Monroe, founder and CEO. "We look forward to sharing our products and mission, and talking with women who are considering self-employment through direct selling."
COLUMBUS, Ohio (PRWEB) January 19, 2018
A huge pink mobile shop is scheduled to roll across the country celebrating Thirty-One Gifts' 15th anniversary, hosting guests at a celebration tour, beginning January 23. Guests may visit the shop and explore fashion, home organization and utility products; learn about the opportunity to become a Thirty-One independent sales consultant; and win prizes.
With a theme entitled "The life you love is in the bag," the Thirty-One Gifts Celebration Tour will visit 69 cities for one or two days each. At each stop Thirty-One will give away an organizing utility tote to the first 50 guests (18 and older). There also will be prize drawings with $100 worth of products awarded to five guests daily, and everyone who visits the shop will receive a gift.
Anyone may attend and admission is free. The tour begins January 23 at Laguna Hills, California, and traverses the country until making a final stop July 21-23 at Columbus, Ohio, the company's headquarters and location of Thirty-One's annual conference for their sales field.
The shop comprises a 26-foot-long trailer pulled by a truck and is ADA accessible. Both the trailer and truck are painted in Thirty-One's bright pink logo color and 15th anniversary branding. The trailer walls hinge open to accommodate visitors and create a store-like space. Guests may see products up close and place orders to buy products.
"We're celebrating our 15-year success with our customers nationwide," said Cindy Monroe, Thirty-One Gifts founder and CEO. "With their help, we've become one of the largest direct-selling organizations in the world and we want to thank them, share gifts and host them at our shop in person. We look forward to meeting our customers and sharing our products and mission with those who don't know us, and talking with women who are considering self-employment through direct selling."
Giving back is fundamental to Thirty-One, and through their charitable initiative, Thirty-One Gives, they work to empower girls, women and families to lead purposeful, thriving lives. Since 2012, Thirty-One Gives has donated $100 million in products and cash to charitable organizations that share their mission.
The company will include it's give-back mission through the celebration tour as well. Throughout the tour, community service projects will be conducted, working with Thirty-One Gives' nonprofit partners. Projects will be conducted for World Vision, Kids In Need Foundation, Ronald McDonald House Charities, Operation Homefront, and Girls on the Run, providing engagement opportunities for guests to support the organizations. Activities include preparing hope kits – Thirty-One bags filled with personal hygiene products – for women in need; teacher shopping days where teachers fill Thirty-One bags with free supplies for students; baby showers for families whose babies are in neonatal intensive care units; and more.
Thirty-One Gifts is one of the world's largest direct-selling companies, offering purses and wallets, totes, home organization solutions and décor, thermal bags, jewelry and more. The company, however, is about much more than its products. Thirty-One is a family of individuals who share a passion for empowering women, and who are committed to celebrating, encouraging and rewarding others for who they are.
The name Thirty-One Gifts comes from Proverbs 31, of the Bible, which describes the attributes and importance of a "virtuous woman."
With a mission to help women by giving them the opportunity to own their own businesses, Thirty-One provides all the tools and support necessary to find success and possibly build a new career.
Cindy Monroe started Thirty-One in her basement in 2003. From those humble beginnings, they've grown to include more than 1,000 employees and nearly 60,000 independent sales Consultants across the U.S. and Canada.
More information may be found at the Thirty-One website: http://www.mythirtyone.com.
Tour dates and locations:
January 23 - 24: Laguna Hills, Calif.
January 26 - 27: Fresno, Calif.
January 31: Reno, Nev.
February 4 - 5: Portland, Ore.
February 9: Federal Way, Wash.
February 10: Fife, Wash.
February 13: Boise, Idaho
February 15: Murray, Utah
February 18: Mesa, Ariz.
February 20: Las Cruces, N.M.
February 22: Albuquerque, N.M.
February 24 -25: Denver, Colo.
March 3 - 4: Wichita, Kan.
March 5 - 6: Tulsa, Okla.
March 7: Oklahoma City, Okla.
March 9 - 10: Grand Prairie, Texas
March 13: The Woodlands, Texas
March 14: Houston, Texas
March 15: Lafayette, La.
March 17 - 18: Little Rock, Ark.
March 22 - 23: Memphis, Tenn.
March 24: Hoover, Ala.
March 25: Huntsville, Ala.
March 26 - 27: Chattanooga, Tenn.
April 2 - 3: Atlanta, Ga.
April 5 - 6: Tampa, Fla.
April 8: Miami, Fla.
April 10: Cocoa Beach, Fla.
April 11 - 12: Jacksonville, Fla.
April 14: Savannah, Ga.
April 16 - 17: Columbia, S.C.
April 18 - 19: Greenville, S.C.
April 20 - 21: Charlotte, S.C.
April 23: Fayetteville, N.C.
April 24 - 25: Raleigh, N.C.
April 27 - 28: Richmond, Va.
May 2 - 3: Washington, D.C., area
May 5 - 6: Baltimore, Md.
May 7: Deptford, N.J.
May 8: Philadelphia, Pa.
May 11: Stroudsburg, Pa.
May 12: Clifton, N.J.
May 14 - 15: New Hyde Park, N.Y.
May 16: New York City, N.Y.
May 18 - 19: Milton, Mass.
May 20: Manchester, N.H.
May 22 - 23: Saratoga Springs, N.Y.
May 29 - 30: Rochester, N.Y.
June 1 - 2: Pittsburgh, Pa.
June 4: Cleveland, Ohio
June 6: Dearborn, Mich.
June 8: Grandville, Mich.
June 9: Portage, Mich.
June 10: South Bend, Ind.
June 12 - 13: Chicago, Ill.
June 15 - 16: Madison, Wis.
June 18 - 19: Green Bay, Wis.
June 21: Eau Claire, Wis.
June 22 - 23: Roseville, Minn.
June 25 - 26: Des Moines, Iowa
June 29 - 30: Omaha, Neb.
July 6 - 7: Kansas City, Mo.
July 9: Columbia, Mo.
July 11: Bridgeton, Mo.
July 13 - 14: Hurstbourne, Ky.
July 16 - 17: Indianapolis, Ind.
July 21 - 23: Columbus, Ohio