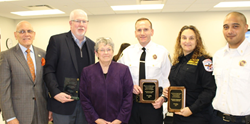 WHITE PLAINS, N.Y. (PRWEB) January 23, 2018
Hospice of Westchester (HOW) recently hosted a recognition ceremony for several community partners who aided the nonprofit organization in an active emergency management drill, evacuating the sisters of the Convent of St. John the Baptist in Purchase in November 2017. The celebration, which took place on January 11 at HOW's offices in White Plains, acknowledged the Harrison Police Department, West Harrison Fire Department, Harrison Emergency Medical Services and Empress Ambulance, all of which assisted HOW in the drill.
The drill was in response to new Medicare and regulatory requirements regarding emergency management, and the implementation of significant standards which require the conduct of two drills.
Pictured L-R: Ron Belmont, Mayor/Supervisor of Harrison; Jim O'Connor, Vice President of Empress Ambulance; Mary K. Spengler, MS, CEO of Hospice of Westchester; Lt. John Vasta, Harrison Police Department; Michelle Carlucci, Supervisor, Harrison Emergency Medical Services; Captain A.J. Briones, NRP, Commanding Officer, Special Operations, Empress Ambulance
About Hospice of Westchester:
Hospice of Westchester (HOW) is a private, not-for-profit healthcare agency that provides skilled, compassionate and comprehensive end-of-life home care to patients diagnosed with any serious or life-limiting illness and gives support to their families and loved ones. Hospice of Westchester is located at 1025 Westchester Avenue, Suite 200, White Plains, NY. For additional information, visit http://www.hospiceofwestchester.com or call (914) 682-1484. For the latest news and updates, find HOW on Facebook.