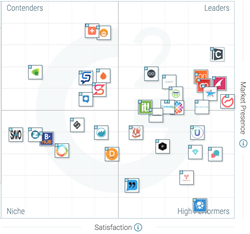 CHICAGO (PRWEB) January 19, 2018
G2 Crowd, the world's leading business software review platform, yesterday released the Winter 2018 Content Marketing Grid® report to help businesses make the best Content Marketing technology buying decision. ClearSlide, Uberflip, Outgrow, ion interactive, Joomag, Curata, LookBookHQ, Skyword, Ceros, TechValidate, Contently, Showpad, Scoop.it, and ClearVoice were named Leaders in the report, receiving a strong customer satisfaction score with a large market presence.
UpContent, Opinion Stage, Sparkle, Pressly, TrackMaven, TrenDemon, Flockrush, and Sorc'd were named High Performers in the report, earning strong customer satisfaction marks with smaller market presence scores. Outgrow received the highest overall satisfaction score and AddThis earned the highest overall market presence score.
The Grid® leverages customer satisfaction data reported by authenticated users along with vendor market presence determined from social and public data. Based on a combination of these scores, each software solution is categorized as a Leader, High Performer, Contender or Niche.
Key Findings:

Price — Some users of content marketing solutions wished for freemium versions or products that offered tiered pricing structures. Some users, while they didn't necessarily need all the bells and whistles of a tool, remarked that things like paywall barriers, limited file storage, and lack of true customizations kept smaller-sized businesses from utilizing more expensive products. For other users, they liked it when solutions were "high-impact, low-cost", ultimately providing them with a useful, easy-to-use platform that helped them produce effective and aesthetically pleasing content and marketing efforts.
Lack of data granularity — Many users said that they were frustrated with the lack of granular reporting that their chosen content marketing solution offered. Some users had to spend either time or money for custom reporting and some had to turn to third-party analytics tracking tools as a supplement. Users said that some downfalls of content marketing solutions included: no way to segment visitors and overall traffic, and not-so-seamless integrations with tools such as HubSpot or Google Analytics.
About the Content Marketing Grid® report:
The report is based on more than 1,287 reviews written by business professionals.
Of the 165 products listed in G2 Crowd's Content Marketing category, the ranked products each received ten or more reviews to qualify for inclusion on the Grid®.
About G2 Crowd, Inc.
G2 Crowd, the world's leading business solution review platform, leverages more than 335,000 user reviews to drive better purchasing decisions. Business professionals, buyers, investors, and analysts use the site to compare and select the best software and services based on peer reviews and synthesized social data. Every month, nearly one million people visit G2 Crowd's site to gain unique insights. Co-founded by the founder and former executives of SaaS leaders like BigMachines (acquired by Oracle) and SteelBrick (acquired by Salesforce) and backed by more than $45 million in capital, G2 Crowd aims to bring authenticity and transparency to the business marketplace. For more information, go to G2Crowd.com.