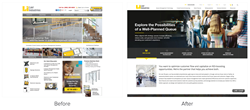 We are honored and proud that our client, Lavi Industries, was recognized by the AMCP for our efforts to build a custom masterpiece at lavi.com
LOS ANGELES (PRWEB) January 22, 2018
SPINX Digital is pleased to announce that the website they strategized, designed and developed for their client Lavi Industries, lavi.com, won a Gold award in the category of B2B Website by the Association of Marketing and Communication Professionals (AMCP) MarCom Awards. The award recognizes outstanding achievement in the concept, direction, design, and production of marketing and communication materials and programs.
In 2017, SPINX Digital helped Lavi launch its award-winning website to highlight the latest in queue management technology, crowd control and queuing, store fixtures and merchandising, and premium architectural railing systems. The redesign completely overhauled the old website and provided Lavi with a robust and intuitive online solution to serve their customers better. It features a large collection of resources, guides, infographics, and articles designed to create a holistic and engaging experience for their customers.
"We are honored and proud that our client, Lavi Industries, was recognized by the AMCP for our efforts to build a custom masterpiece at lavi.com", said Sukesh Jakharia, CEO of SPINX Digital. According to him, "the site not only enhances their customers' experience, but also assists Lavi in managing vast number of products and data, and allows them to create custom B2B portal for their clients with ease amongst various other functional features. We attribute this success to our attention to detail on various aspects of the process including: a sound understanding of the business and their product offerings, a well-crafted strategy, application of the latest design trends, and our talented development team. We also attribute this success to the cooperation and guidance from Perry Kuklin, the Director of Marketing and Business Development at Lavi."
SPINX Digital attributes the website's success to the following:

The coordination of the SPINX Digital team and Lavi's Marketing team
A stylish, sleek design utilizing attractive imagery
An immersive user experience for Lavi customers
A fully custom content management system to achieve the complex needs of the organization with ease
Detailed product information and shipping quotes generated via elaborate algorithms, enabling customers to transact easily
The MarCom competition is one of the oldest, largest and most prestigious creative competitions in the world. MarCom is sponsored and judged by the Association of Marketing and Communication Professionals (AMCP), a 23-year-old international organization consisting of several thousand creative professionals.
About SPINX: SPINX Digital is based in Los Angeles, CA and crafts digital solutions for B2B and B2C businesses around the world. SPINX Digital excels at digital strategy, professional web design and development, mobile applications, user experience, content management systems, and email marketing initiatives.
About Lavi: For over 35 years, Lavi Industries has helped companies improve the customer experience with queue management systems, customer flow technology and crowd control solutions that effectively speed customer throughput, improve employee productivity, and ultimately increase profits.