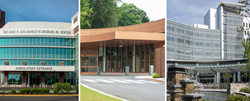 Aligning with Connecticut Children's exemplifies how WCHN is collaborating with leading healthcare experts to ensure we can offer the greatest care possible, said John M. Murphy, president and CEO of WCHN
DANBURY, Conn. (PRWEB) January 22, 2018
Western Connecticut Health Networ k (WCHN) and Connecticut Children's Medical Center (Connecticut Children's) have launched a pediatric alliance to bring Connecticut Children's prominent attributes and highly specialized pediatric health care to families throughout western Connecticut. Connecticut Children's pediatric hospitalists and physician assistants (PAs) are now providing inpatient care for children at Danbury Hospital and Norwalk Hospital. Neonatologists will start caring for babies at each hospital's Neonatal Intensive Care Unit (NICU) this summer. This alliance will enhance quality outcomes and provide greater access to subspecialty pediatric care for families in the communities WCHN serves.
WCHN is now bringing an unprecedented level of specialized pediatric and neonatology care to its community hospitals by aligning with Connecticut Children's, the only hospital in Connecticut dedicated exclusively to the care of children. Through the alliance, children and their families will have 24/7 access to readily available specialized and subspecialized pediatric services. Even more pediatric consultations will be available at Danbury Hospital and Norwalk Hospital emergency departments (EDs), ensuring best-in-class pediatric emergency care for young patients.
"Aligning with Connecticut Children's exemplifies how WCHN is collaborating with leading healthcare experts to ensure we can offer the greatest care possible. Bringing Connecticut Children's to our community hospitals enables us to deliver extraordinary pediatric care and achieve the best outcomes for every family and the children they cherish," said John M. Murphy, MD, president and CEO of WCHN.
Two physician leaders from Connecticut Children's and three WCHN providers have assumed new roles to lead local efforts at each hospital. This includes a Connecticut Children's board-certified pediatric emergency medicine physician who will provide consultation to Danbury Hospital, New Milford Hospital, and Norwalk Hospital EDs. WCHN will adopt Connecticut Children's standardized best practices to advance continuity of care. Family-centered care will also be introduced, where the entire care team rounds at the bedside with the patient's family.
"We are looking forward to expanding our evidence-based, state-of-the-art care to families in western Connecticut. We are excited to align with WCHN and progress our mission to make children in Connecticut the healthiest in the country," said Anand Sekaran, MD, division head of Hospital Medicine at Connecticut Children's.
Pediatric patients will remain Danbury Hospital and Norwalk Hospital patients. They will have easy access to Connecticut Children's main campus in Hartford if necessary. Pediatricians and family physicians can refer children to WCHN's EDs for evaluation, care, and hospitalization. They may also contact the pediatric hospitalist team for direct admissions.
About Western Connecticut Health Network
Western Connecticut Health Network is the region's premier, patient-centered healthcare organization serving residents of Western Connecticut and adjacent New York. The organization is anchored by three nationally recognized hospitals, Danbury Hospital, New Milford Hospital, and Norwalk Hospital, and their affiliated organizations. The continuum of care offered includes numerous Western Connecticut Medical Group medical and sub-specialty practices, home health care services, a nationally renowned biomedical research institute, the Danbury Hospital & New Milford Hospital Foundation, the Norwalk Hospital Foundation, and other affiliates. For more information, visit WCHN.org. Share your comments with us at Facebook.com/DanburyHospital, Facebook.com/NewMilfordHospital, and Facebook.com/NorwalkHospital.
About Connecticut Children's Medical Center
Connecticut Children's Medical Center is the only hospital in Connecticut dedicated exclusively to the care of children and is ranked by U.S. News & World Report as one of the best children's hospitals in the nation. With a medical staff of more than 1,000, Connecticut Children's provides comprehensive, world-class health care in more than 30 pediatric specialties and subspecialties. Connecticut Children's Medical Center is a not-for-profit organization, which serves as the primary pediatric teaching hospital for the UConn School of Medicine, has a teaching partnership with the Frank H. Netter MD School of Medicine at Quinnipiac University, and is a research partner of The Jackson Laboratory. Connecticut Children's Office for Community Child Health is a national leader in community-based prevention and wellness programs.