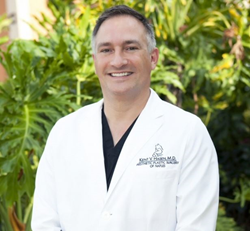 NAPLES, Fla. (PRWEB) January 30, 2018
Dr. Kent V. Hasen (http://www.drhasen.com), who founded one of the leading plastic surgery practices in the Naples-Fort Myers and Bonita Springs area more than 15 years ago, recently accepted a position as Chief of Plastic Surgery at NCH Healthcare System.
"I am very proud to accept this prestigious role at the NCH Healthcare System," Dr. Hasen says. "I am committed to enhancing the plastic surgery services at NCH and to supporting our team of board-certified plastic surgeons."
Dr. Hasen, who's certified by the American Board of Plastic Surgery (ABPS) and is medical director of Aesthetic Plastic Surgery & Med Spa of Naples, specializes in cosmetic plastic surgery for the face, breasts, and body. He is recognized as one of the leading speakers on the subject of advancements in cosmetic plastic surgery and aesthetic treatments, and is known for his work training other plastic surgeons.
As chief of plastic surgery at NCH, Dr. Hasen says he will "promote excellence in clinical care for a patient-centered experience in plastic surgery services and in treatments designed to enhance the aesthetics, health, and well-being of each NCH plastic surgery patient, whether it be reconstructive, trauma, or cosmetic in nature."
Dr. Hasen, throughout his career in Naples-Fort Myers, is perennially among the first plastic surgeons to offer patients in the area the most advanced surgical and nonsurgical aesthetic techniques available. As medical director, he's maintained an innovative approach to cosmetic and reconstructive plastic surgery, in addition to nonsurgical treatments such as CoolSculpting® and BOTOX® Cosmetic. His patients from Bonita Springs, Fort Myers, and Naples are often the first in southwestern Florida to undergo these treatments.
In addition to being a board-certified plastic surgeon, Dr. Hasen is a member of the American Society for Aesthetic Plastic Surgery, the American Society of Plastic Surgeons, and the Florida Society of Plastic Surgeons. He earned his medical degree from Cornell University Medical College and completed a prestigious residency at Northwestern University, where he served as Chief Resident in plastic surgery at McGaw Medical Center. He then completed a cosmetic surgery fellowship in Miami before establishing his own practice in 2002.
Incorporated as a 501(c)(3), not-for-profit parent holding corporation in 1983 to better serve the community's healthcare needs. The NCH Healthcare System, Inc., consists of the following entities:

Naples Community Hospital, Inc., a not-for-profit corporation located in Collier County, Florida, that consists of two hospitals
NCH Baker Hospital Downtown Campus
NCH North Naples Hospital Campus
Both the downtown campus and hospital campus are acute care facilities. The NCH hospitals provide personalized care for over 40,000 patients a year in the 2-hospital, 716 bed system. NCH's outstanding hospital reputation is confirmed by the Joint Commission on Accreditation of Healthcare Organizations (JCAHO), in its award of accreditation to both NCH hospitals. In August 2012, the NCH Healthcare System became a member of the Mayo Clinic Care Network.
The network's primary goal is to help people gain the benefits of Mayo Clinic expertise close to home, ensuring that patients travel outside the region only when necessary. NCH is the first member of the network in Florida and the Southeast region of the United States. The Hospital also has a blood center and various other outpatient treatment and surgical centers located throughout the community.
Kent V. Hasen, M.D., (http://www.drhasen.com) is a Naples, Florida, plastic surgeon and medical director of a full-service aesthetic plastic surgery and cosmetic practice, which has developed a strong reputation in South Florida since opening in 2002. Dr. Hasen is certified by The American Board of Plastic Surgery and has been named one of America's Top Doctors by Castle Connolly for 3 consecutive years. Dr. Hasen offers medical spa services, hair restoration, and cosmetic surgery for the face, breasts, and body. He is an active member in The American Society for Aesthetic Plastic Surgery and American Society of Plastic Surgeons®.