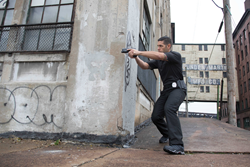 The idea behind HLX comes from a shift in the industry to look less tactical without sacrificing functionality.
ST. CHARLES, Mo. (PRWEB) January 25, 2018
Law enforcement and tactical gear manufacturer Propper International has introduced the exciting new HLX Collection. The low-profile Hybrid Lightweight Crossover starts with smooth-face canvas and integrates stretch panels in strategic places to offer extra flex where needed.
"The idea behind HLX comes from a shift in the industry to look less tactical and to make comfort and design a priority without sacrificing functionality," said Joe Ruggeri, Propper's Senior Vice President of Merchandising and Product Development. "By adding stretch material in key areas, the collection offers greater mobility with a modern profile."
Combining poly-rich soft touch canvas with stretch panels offers increase mobility, while side zip leg pockets, hidden shirt pocket zippers, and an athletic fit across the collection add to the low-profile look without compromising essential functions.
The HLX Collection, available in men's and women's styles, includes pants featured in black, LAPD, khaki, earth, and alloy; performance synthetic polos with Coldblack® technology in black, LAPD navy, charcoal, steel blue, and white; and woven shirts in black, LAPD navy, and khaki.
Maintain your edge with maximum comfort and mobility in the low-pro HLX Collection from Propper.
Learn more and view product videos: https://www.propper.com/hlx
About Propper
Propper has made tactical gear with a purpose for over 50 years, since their first U.S. Navy contract in 1967. Today, Propper designs and manufactures professional level tactical apparel and gear for military, law enforcement and public safety professionals, and civilians, whether in the service, on the job, or off for the weekend.
For more information, press only:
David Workman
636-685-1062
davidw(at)propper(dot)com
For more information on Propper:
http://www.propper.com