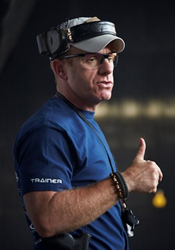 The professional expertise and brand enthusiasm Wes and Mandy bring to the team is contagious. We're excited to see what 2018 has in store.
ST. CHARLES, Mo. (PRWEB) January 26, 2018
Propper International is proud to announce the renewal of Wes Doss and the addition of Mandy Bachman as Brand Ambassadors for 2018.
Doss, who joined the Propper team in the fall of 2016, is an internationally recognized firearms, tactics, and use of force instructor with over 20 years of military & civilian criminal justice experience, as well as significant operational time with both military & law enforcement tactical operations & protective service organizations. He holds specialized instructor certifications from the U.S. Army, the U.S. Marine Corps, Arizona POST, the Smith & Wesson Academy, the Sigarms Academy, NRA LEAD, FEMA, and the Department of State. Doss is the owner of Khyber Interactive Associates, Inc., a full-service military and law enforcement training company based in Arizona.
"It's great to have Propper as a sponsor again this year and we are proud to work with them for 2018," Doss said. "They've been making top-of-the-line tactical gear for the military, law enforcement, and civilian worlds for over 50 years, and I'm proud to be working with such a great company."
Bachman is a decorated member of the award-winning Wilson Combat Shooting team and full-time employee of the International Defensive Pistol Association (IDPA). In addition to her very full competition schedule, Bachman teaches defensive handgun classes with Wilson Combat founder Bill Wilson. A rising star in competitive shooting, Bachman started shooting in 2015 and quickly jumped through the ranks to reach Expert status in her first year. In 2017, just two years after beginning her shooting career, she became the 17th female to make Master Class in IDPA. This past fall, she took 3rd place in the Women's Division at IDPA Nationals.
"As a competitive shooter I want products that I trust and believe in," Bachman said. "I have found exactly that in Propper. I am so excited for this opportunity and am proud to be a part of the Propper brand."
"It's great to have Wes and Mandy as our Brand Ambassadors," said John Negrau, VP of Marketing & E-Commerce. "The professional expertise and brand enthusiasm they bring to the team is contagious. We're excited to see what 2018 has in store."
About Propper
Propper has made tactical gear with a purpose for over 50 years, since their first U.S. Navy contract in 1967. Today, Propper designs and manufactures professional level tactical apparel and gear for military, law enforcement and public safety professionals, and civilians, whether in the service, on the job, or off for the weekend.
For more information, press only:
David Workman
636-685-1062
davidw@propper.com
For more information on Propper:
http://www.propper.com