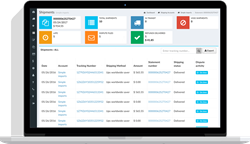 "Try our 15 Day Free Trial. Why not save up to 10%, with no costs to you?"
LOS ANGELES (PRWEB) January 22, 2018
Parcel Service Refund (http://www.ParcelServiceRefund.com) is an automated online parcel auditing service developed for companies recover UPS, FedEx, and DHL refunds, reducing their shipping costs by up to 10%. The recent website launch was developed to eliminate the manual process of auditing historical shipments and billing invoices for errors, which qualify for refunds. The website allows the client to sign up, set up, and begin the refund process in a few minutes, with no integration or impact to their business.
David Kamjoo, CEO of ParcelServiceRefund.com, who has over 15 years of UPS and Supply Chain experience, is very excited to introduce the automated and secure auditing tool. "Since I come from a Supply Chain and Shipping Background, I know how important it is to reduce shipping costs. Many companies are not even aware that they can claim refunds for late deliveries, which means that they could have thousands of dollars in unclaimed refunds. This new tool audits each shipment for up to 40 potential billing errors. Imagine being charged an incorrect rate, late deliveries which qualify for Money Back Guarantees, or even billed not shipped? ParcelServiceRefund.com ensures that our clients pay according to their contracts, with no out of pocket costs to the client!"
ParcelServiceRefund.com offers one of the lowest fees in the industry. In face, we provide a GUARANTEE... No Refund. No Fees.
David explains that the website is "Secure, easy to set up and use, requires no integration, and does not impact the clients' operations. The tool also provides an easy to use dashboard and reporting tool, which provides a central location for all of the clients' parcel history, allowing them to better analyze their shipment profile and make informed shipping decisions. The website also integrates with QuickBooks, which allows clients to get visibility to their invoices and shipment history without any manual processes." David is excited to report that clients have saved up to 10% on their shipping costs.
ParcelServiceRefund.com ensures that companies are not charged incorrectly, and works automatically with UPS, FedEx, and DHL to retrieve the refunds. With an easy to use dashboard, clients are automatically updated with refund statuses, shipment history, and other critical data to help them analyze their shipment profile. We hope that companies are able to take advantage of this service and start saving on their parcel shipping costs.
To learn more about what ParcelServiceRefund.com has to offer or how your company can save on shipping costs, visit: http://www.ParcelServiceRefund.com .