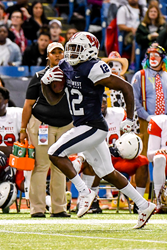 St. Petersburg, FL (PRWEB) January 21, 2018
In a game that started slow, both of the Most Outstanding Player award winners covered a lot of ground. In the end, the West extended their streak over the East to three games with a late touchdown, securing a 14-10 victory.
The E. Jack Spaulding Award for Most Outstanding Defensive Player was awarded to the West squad's Natrell Jamerson, safety from Wisconsin. In the first quarter, Jamerson alertly scooped up a loose ball after a sack (that others appeared to believe was an incomplete pass) and took it 68 yards for the game's initial score.
The William H. Coffman Award for Most Outstanding Offensive Player went to Northern Iowa receiver Daurice Fountain, who led the game with 101 all-purpose yards for the East. Fountain finished the game with three catches for 61 yards and two punt returns for 40 yards. His 30-yard return in the third quarter led to the East squad's only touchdown — and only lead — of the game. Fountain had both the longest return and reception of the game.
The game was played in front of a crowd of 21,700 inside Tropicana Field and was broadcast nationally on NFL Network.
About the Most Outstanding Player Award Namesakes: E. Jack Spaulding was a captain in the U.S. Navy and was one of the organizers of the first East-West Shrine Game. William H. Coffman was the managing director of the East-West Shrine Game for 40 years.
About the East-West Shrine Game: Originating in 1925, the East-West Shrine Game is the longest-running college all-star football game in the country and features some of the highest-rated players in the projected NFL draft ranking. While the teams are divided by East and West, the players come together for the beneficiary of the event, Shriners Hospitals for Children.
About Shriners Hospitals for Children: Shriners Hospitals for Children is changing lives every day through innovative pediatric specialty care, world-class research and outstanding medical education. The 22 facilities in the United States, Canada and Mexico provide advanced care for children with orthopaedic conditions, burns, spinal cord injuries, and cleft lip and palate.
Shriners Hospitals for Children is a 501(c)(3) nonprofit organization and relies on the generosity of donors. All donations are tax deductible to the fullest extent permitted by law. To learn more about Shriners Hospitals for Children, please visit http://www.shrinershospitalsforchildren.org