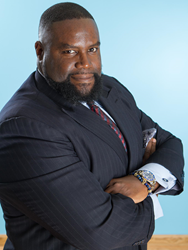 (PRWEB) January 22, 2018
The 4 C Visuals Group, a multimedia company that showcases emerging entrepreneurs, has launched a YouTube web series featuring the COO of one of the nation's most successful black-owned small businesses.
Flowgram's first episode will feature Rod Brown. Rod is a co-founder of OnceLogix, an award-winning web-based solutions company located in Winston–Salem, North Carolina.
"We started the Flowgram because of the negative depiction and perceptions of black-owned businesses," said Charles Crouch, Creator of Flowgram. "Our goal is to provide media content that is positive, uplifting, and informative."
OnceLogix is a leading African-American owned company in the electronic health record industry. OnceLogix is best known for its award-winning software service, sharenote.com. Sharenote.com manages client and staff data, documentation, and billing for professionals in the Behavioral Healthcare industry.
Inc. ranked OnceLogix 2,406th on its 36th annual Inc. 5000 list while Forbes named it one of America's best small companies in 2017. In 2017, OnceLogix earned more than $5 million in revenue, surpassing its $3.5 million in 2016.
"I am honored to share my accomplishments and testimony that may impact and inspire today's budding industry leaders," said Brown.
The official Flowgram launch is February 7, 2018, via YouTube Channel, 4 C Visuals Group.
About OnceLogix
OnceLogix, founded in 2005, is a minority-owned and operated software company that specializes in web-based solutions for the healthcare industry. Sharenote.com was developed to make patient care simplified. There is an overwhelming need for mental health providers, dedicated clinicians, and quality services. Sharenote.com's mission is to improve the quality of care in the behavioral healthcare space, by providing healthcare professionals a tool that enhances their processes. Sharenote.com is one of the leading web-based tools used by behavioral healthcare providers across the country. Sharenote is currently in 11 states servicing over 400 behavioral Healthcare agencies. For more information, please visit http://www.sharenote.com and http://www.oncelogix.com.