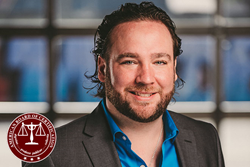 The leading cause of bankruptcy is not poor financial planning, it's the occurrence of things that are unexpected.
Fort Lauderdale, FL (PRWEB) January 30, 2018
Attorneys who are certified attorneys are capable of addressing the most complex ins and outs of bankruptcy proceedings and law. ABC is a non-profit organization for legal professionals that grants formal certification in specific areas of law. Certification candidates must undergo a rigorous exam in order to be a certified bankruptcy attorney. Being certified guarantees a set standard of quality and expertise for potential clients that require counsel in the area of business bankruptcy. ABC is sponsored by the American Bankruptcy Institute and certification programs are officially accredited by the American Bar Association.
"The leading cause of bankruptcy is not poor financial planning, it's the occurrence of things that are unexpected," attorney Chad Van Horn said. "However, whether you're running a business and considering bankruptcy, or an individual with too much debt, there are a lot of factors to consider when looking at bankruptcy."
There has been an influx of retailers filing for bankruptcy in recent years, hence the importance of becoming specially certified in business bankruptcy. Huge name brands such as Sears, Payless Shoes, J. Crew, and Charlotte Ruse, to name only a few, have all opted to file for business bankruptcy. Filing for bankruptcy, no matter how large the business is, though, is never a cut and dried process. The expertise of an attorney with a formal specialization in this type of law is essential.
In addition to a specialization in business bankruptcy, each certified attorney also has acute knowledge of state bankruptcy laws and statutes. Among the three different types of bankruptcies, expert guidance is needed for a business owner to get the best possible outcome from the process of bankruptcy. This comprises Chapter 7 (liquidation), Chapter 11 (reorganization), and Chapter 13, which is usually only available to individuals, but may be applicable to sole proprietors. Each case is different with unique circumstances and must be assessed individually.
The difference between a certified bankruptcy attorney for business bankruptcy versus a regular attorney is that business owners can rest easy knowing that their case is in the hands of a bonafide professional. ABC certification sets the bar high when it comes to obtaining the most advantageous outcome for business owners in a bankruptcy case, so that professionals can get back on their feet. A well-managed bankruptcy filing shouldn't be the end of a business, but rather, a solution. This is what Chad Van Horn offers as a certified bankruptcy attorney for business bankruptcy.
About Chad Van Horn
Chad Van Horn is the founding partner attorney of Van Horn Law Group, P.A., a South Florida business leader devoted to supporting local startups to help create jobs, and philanthropist known for providing pro bono legal guidance to undeserved populations. He received a Bachelor of Science in Business Management from Robert Morris University and his Juris Doctorate from Nova Southeastern University, Shepard Broad Law Center. He attributes his global perspective of the world to his time studying abroad at American University of Rome in Rome, Italy to his. Chad originally hails from Pittsburgh, PA.
About Van Horn Law Group
Helmed by Chad Van Horn, Van Horn Law Group P.A. is a Fort Lauderdale-based law firm with practice areas in personal bankruptcy, corporate bankruptcy, student loan consolidation and litigation, estate planning/asset protection, LGBT estate planning/asset protection, foreclosure defense, corporate representation, debt consolidation, civil litigation, debt relief, and consumer law. Through a combination of dedicated philanthropy, spirited entrepreneurship and legal expertise, he applies his resources and networking to helping people. Van Horn Law Group can be reached at the Fort Lauderdale office at (954) 765-3166, or by visiting https://www.vanhornlawgroup.com