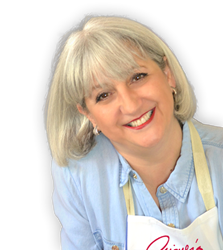 My new Saving's Center combines two things that I truly love: gourmet cooking and saving money!
PHOENIX (PRWEB) January 25, 2018
Giangiskitchen.com, a leading food blog that features creative recipes for delicious and healthy gourmet meals that anyone can create in 30-45 minutes in the comfort of their own kitchen, has added a new Savings Center.
The new Savings Center, which is available at http://www.giangiskitchen.com/savings-center, features a growing roster of top quality products and services that have been personally selected by Giangi Townsend to help people enhance their kitchens and improve their lives — while they save money and stay within their budget. Current selections include special offers from California Wine Club, Dean and DeLuca, Le Creuset, Ghirardelli, and several other leading brands.
In addition, visitors to the Savings Center will find "insider's tips" on how to easily cut their household's grocery bills by hundreds of dollars a month, yet without compromising on quality, freshness or taste. Visitors are also encouraged to submit their insights and ideas on how to be a gourmet on a budget, and to check out the blog's popular Coupons section to save money on groceries with printable coupons and store deals.
"My new Saving's Center combines two things that I truly love: gourmet cooking and saving money!" commented Giangi, who was recently awarded the Best Woman's Food and Lifestyle Blogger— South West USA by Corporate Vision Magazine "It's a great way for people discover that creating healthy and delicious gourmet meals is easy, fun, enjoyable and surprisingly affordable!"
For additional information on Giangi's Kitchen, including advertising, marketing and media inquiries, email giangi(at)giangiskitchen(dot)com or visit http://www.giangiskitchen.com.
Facebook users can also follow Giangi's Kitchen by visiting https://www.facebook.com/giangiskitchen.
About Giangi's Kitchen
Giangi's Kitchen is a popular blog that features simple, delicious, elegant and nutritious recipes, which are primarily geared towards working moms, dads, grandparents, and everyone else with a desire to prepare a great evening meal for their family in just 30-45 minutes.