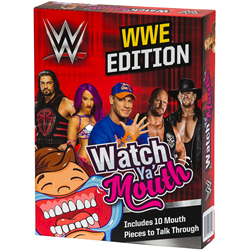 "As a member of the WWE Universe, I've never been more excited about developing and playing a game!" - David Khoshpasand
STAUNTON, Va. (PRWEB) January 23, 2018
Watch Ya' Mouth and WWE have partnered to bring you a whole new level of card playing excitement with Watch Ya' Mouth WWE Edition.
Watch Ya' Mouth WWE Edition evokes your favorite WWE memories with laughs, action gameplay and group fun. Teams of 3-10 players hampered by cheek retractors attempt to speak out and interpret 200 of the greatest WWE phrases and moments. There is also NEWLY added gameplay called "Make Your Move!"
ICONIC SUPERSTAR PHRASES INCLUDE:
"If Ya Smelllll, What the Rock is Cookin'" (WWE Legend The Rock)
"That's the Bottom Line" (WWE Hall of Famer "Stone Cold" Steve Austin)
"You Can't See Me!" (WWE Superstar John Cena)
SIGNATURE MOVES INCLUDE:
Sweet Chin Music (WWE Hall of Famer Shawn Michaels)
Razor's Edge (WWE Hall of Famer Razor Ramon)
Kinshasa (WWE Superstar Shinsuke Nakamura)
NEW GAMEPLAY: "MAKE YOUR MOVE" ACTION CARDS:
A player chooses one of three Superstars to silently act out to their teammate. If the teammate can guess the Superstar before time runs out, players win an additional 5 points in the round!
Choose from SmackDown Live GM Daniel Bryan, WWE Legend Undertaker or WWE Superstar AJ Styles.
"As a member of the WWE Universe, I've never been more excited about developing and playing a game!" - David Khoshpasand
Order NOW here -- http://amzn.to/2j2pi0e