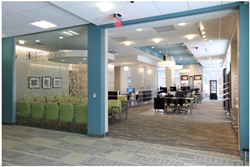 ...both dry eye and ocular allergies present very frequently in our practice.
Grand Rapids, Mich. (PRWEB) January 23, 2018
Grand Rapids Ophthalmology (GRO) now offers diagnostic testing to determine the underlying cause of eye allergies or irritations. This test, which is typically covered by many major medical insurances, helps to characterize, or rule out, allergies when differentiating types of eye surface diseases such as dry eyes, eye allergies, and blepharitis (a common condition that causes inflammation of the eyelids), which can have similar signs and symptoms. This testing is offered at GRO-7 Mile, located at 6050 Northland Drive, N.E., Suite 100 in Rockford.
"Our clinical experience is that both dry eye and ocular allergies present very frequently in our practice. Diagnosing between the two can be complicated because both conditions have similar symptoms, yet the treatments are very different," said GRO's Director of Clinical Operations, Amy Dunleavy, CPO, COA. "By offering our patients ocular allergy testing, we are able to distinguish between the two conditions and prescribe the appropriate therapy."
The testing itself is a series of 60 gentle scratch tests on the inner arm that will evaluate for environmental allergies (not including food allergies). Results can be interpreted within 10 to 15 minutes, allowing for immediate patient education on the sensitive allergens, methods of avoidance, and beneficial treatment protocols. If you think you have eye allergies (most common symptoms include red, itchy, watery eyes), call Grand Rapids Ophthalmology at 616.949.2600 or email info(at)seeitclear(dot)com to schedule your ocular allergy test.
About Grand Rapids Ophthalmology
Founded in 1982, Grand Rapids Ophthalmology (GRO) is the largest fully-integrated eye care medical group in West Michigan. It offers a full suite of eye care services from routine eye exams, contact lenses and glasses, to the most advanced medical and surgical treatments such as LASIK, cataract, cornea, retina, glaucoma, oculoplastics, pediatric, and both cosmetic and reconstructive eyelid surgery. GRO employs the largest number of eye care specialists and professionals in the region: 11 ophthalmologists, 20 optometrists, and 50 certified opticians; with a total of 400 employees at 12 locations. For more information, visit: http://www.seeitclear.com.