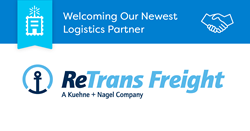 AUSTIN, Texas (PRWEB) January 23, 2018
Merchants selling oversized goods online now have the flexibility to control and take advantage of their ecommerce checkout, thanks to a new partnership between Enterprise Freight Management company ReTrans Freight, and ShipperHQ, the shipping management system.
Having the ability to completely manipulate live freight rates is a game-changer for merchants who sell freight sized items online. With ReTrans Freight and ShipperHQ combined, merchants now have access to low costing freight rates and have the ability to take those rates and customize them to fit their business and customers' needs.
ReTrans Freight's partnership with ShipperHQ makes it simple for both B2B and B2C merchants to show accurate rates at checkout so they can sell more efficiently online and aren't left covering additional shipping costs. ReTrans customers are now able to use ShipperHQ to discount or surcharge live and custom rates, ship oversized packages and freight, and set rules to show special shipping options based on predetermined criteria. ReTrans Freight conquers the logistics side and ensures a smooth delivery while providing services that promote savings, productivity and business growth.
"We are very excited about the partnership with ShipperHQ. We see their transparency, flexibility, and technology as a perfect compliment to our core features in the freight management business." - Brian Hiller, Vice President Business Development, ReTrans Freight.
"It's a pleasure working with such a sincere, experienced, and innovative team," says Karen Baker, ShipperHQ's CEO and Founder. "Demand for LTL freight in ecommerce is growing rapidly and merchants desperately need trustworthy solutions. With ReTrans Freight we're making sure that retailers have a clear and dependable path all the way from their ecommerce storefront to final delivery."
About ShipperHQ
ShipperHQ is a focused and experienced team headquartered in Austin, Texas, USA, with staff in London, UK and in Perth, Western Australia. Since 2008, the company behind ShipperHQ has helped thousands of businesses worldwide configure shipping rates that reflect their business goals. We've built an unparalleled base of knowledge, expertise and enterprise grade shipping rate products. Our mission is to give merchants powerful and easy to use shipping tools so they can focus on their core business.
For more information, contact us at sales@shipperhq.com or start your 30-day free trial at shipperhq.com.
About ReTrans Freight
ReTrans Freight, a Kuehne + Nagel Company, is an industry-leading Enterprise Freight Management Company. We impact business utilizing proprietary, integrated transportation technology solutions that provide superior flexibility and transparency. With a focus on simplifying LTL and FTL B2B and B2C online commerce, our robust applications drive seamless eCommerce integration. ReTrans Freight's platform improves conversion rates, stabilizes and reduces freight expenditure and delivers multi-department management tools that result in a reduction in quoting miscalculations, payment errors and operational costs. Our offering affords access to the crucial data and KPI's you need to strategically manage and analyze your transportation spend and shipping tendencies to enhance control of your eCommerce business.
For more information contact sales@retransfreight.com.