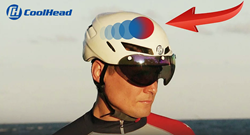 MIAMI (PRWEB) January 23, 2018
CoolHead today announced the launch of its Kickstarter campaign to provide a cycling helmet designed to reduce body temperature while providing state-of-the-art head protection.
As many cyclists and other athletes know, heat can be fatal if precautions are not taken. When the outside temperature rises above 82 degrees Fahrenheit, the body begins to experience issues starting with cramps and exhaustion. If a body reaches 104 degrees Fahrenheit, it begins to affect vulnerable nerve cells, many of which are in the brain. CoolHead's unique design takes on this issue with its special, patented material that only requires a small amount of cold water; CoolHead's design and technology have proven to reduce heat to 15 - 20 degrees Fahrenheit lower than normal body temperature for hours.
"I've faced many race and training days alike when temperatures have reached dangerous highs, putting myself and other riders at risk," stated Sergejs Zelinskis, Founder of CoolHead. "After years of being driven inside to train or risking my health in high temperatures, I set out to develop a helmet that would solve this problem once and for all."
CoolHead is built on a high-grade, extra thick PVA with evaporative technology to deliver unparalleled results. Other features of the helmet include:

All white helmet color to reduce heat absorption;
Optical shield with magnetic attachment, wind tunnel aided design, cooling comfort padding, and slimline buckle, which can easily be taken off or flipped inside of the helmet when not in use;
Aero-dynamic design for perfect airflow, which also aids in increased rider speed;
Cushioned, comfortable buckle;
Small opening on the back of the helmet to restore cooling material with cold water on the go;
Lightweight at only 10 ounces (280g); and,
Availability in two sizes.
Notably, CoolHead has already received the top-tier safety certifications, EN166, EN170 and EN1078, proving it not only significantly cools a cyclist's body, but also provides the best protection available.
Zelinskis continued, "When we reach our Kickstarter campaign fundraising goal, all CoolHead helmets will be manufactured in Miami, Florida, assuring top quality production. Those who back us early will be able to receive these industry-leading helmets at 33% off their retail value."
About CoolHead
CoolHead is a helmet designed for reducing body temperature in the most important part of rider's body- the brain. Its unique design provides protection against penetration but it also ensures hours of reduced heat while cycling to a pleasant 15F° - 20F° / 8C°-12C° below average body temperature.
Learn More About CoolHead, the Coolest Cycling Helmet on Earth. Literally.
###
Contact
Sergejs Zelinskis
info@coolheadhelmet.com
1-786-292-4829