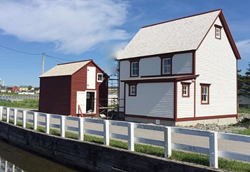 John Norman Mayor of Bonavista said "We are thrilled to see the CapeRace investment in Bonavista.Their travel strategy with its light ecological footprint & respect for built heritage conservation dovetails well into Bonavista's overall economic strategy."
ST. JOHN'S, Newfoundland (PRWEB) January 23, 2018
CapeRace Cultural Adventures is expanding its unique experiential travel concept with the acquisition of four new properties supporting winter travel as well as a move into St. John's local recreational travel market.
The recognition of Newfoundland as a winter destination along with the growing demand for in-province packaged travel has created an opportunity to expand on the current line of Eco-Culture Experience™ packaged tours. In keeping with the responsible travel & sustainability strategy, CapeRace has added two new properties in St. Johns and two in historic Bonavista.
John Norman, Mayor of Bonavista, said, "We are thrilled to see CapeRace expand their investment in Bonavista with the purchase of the Adam Mouland House and the Roger Mouland House. We believe the CapeRace travel strategy with its light ecological footprint and respect for built heritage conservation dovetails well into Bonavista's overall economic strategy…"
CapeRace offers self-guided packaged trips to Canada's most easterly exotic island of Newfoundland.The explosion of world class, year-round culinary establishments in St. John's and Bonavista, all set in spectacular scenic locations create a unique destination for those seeking authentic travel experiences based on outdoor activities, arts and entertainment and culinary adventures.
"We'll be launching "Winter Culinary," a seven day trip from St. John's to Fogo Island, and a shorter "Winter Lovers Road Trip," a five day road trip that takes you to St. John's and Fogo Island with a stop in the rural outport Heart's Delight. Partnerships will be key success factors as we package up outdoor experiences with the local communities including the important local foodie movement. Our first winter trips with be in partnership with the Fogo Island Inn, Raymonds, the Mallard Cottage and Cod Sounds. Our four new properties will be restored to their original historic state, which is key to creating the overall Eco-Culture Experience™," said Ken Sooley, owner of CapeRace Adventures.
The CapeRace flexible self-driving approach to travel provides visitors with the opportunity to participate in Newfoundland ecological discovery in a sustainable and responsible way, and in a format that supports National Geographic's Geotourism global travel initiative.
"With the Bonavista rural recovery well underway, new restaurants, theatre, brew pubs, and an untouched striking landscape make it a great weekend destination for the local St. John's market. "CapeRace™ Townie," one of our new trips, offers St. John's residents the opportunity to explore the area in a self-drive packaged format that includes unique local hikes and walks, great dining and interaction with the local Bonavista community," said Ken.
The Town of Bonavista has been undergoing a unique rural renewal, one that could potentially be a road map for other Newfoundland rural communities. Some say it is poised to challenge Gros Morne Park as Newfoundland's crown jewel of tourist destinations.
CapeRace™Cultural Adventures Inc is a boutique travel company specializing in upbeat, authentic travel experiences at Canada's most eastern island of Newfoundland. CapeRace is the only travel company that initiates real connections with the local community in a self-guided travel format.
For more information on CapeRace™ contact Ken Sooley For more information on CapeRace™ Cultural Adventures Inc. e-mail: kensooley@caperace.com or visit our website at http://www.caperace.com.