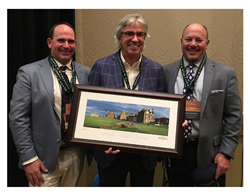 "The number of PGA Club Professionals who use our firm to host international golfing expeditions for their members has grown exponentially over the years, from fewer than 15 a decade ago to more than 150 at present." Sam Baker, Founder/CEO Haversham & Baker
CINCINNATI (PRWEB) January 29, 2018
Club championships, special events, dinners, private lessons; these are the services members of private clubs expect from their PGA Professionals. Members at clubs like Mayacama Golf Club (Santa Rosa, CA), Onwentsia Club (Lake Forest, IL) and Hillcrest Country Club (Los Angeles, CA) have come to expect a bit more. They expect their PGA Professionals (Ted Antonopoulos, Nick Papadakes and John McMullen respectfully) to meticulously plan trips for up to 16 members to play the world's most legendary courses. They expect each trip to be executed in such a way as to insure they'll enjoy life at its best at every turn and return with memories they'll treasure for life. In recognition of providing such and extraordinary service these men have been inducted as founding members of the newly formed Society of Links Captains.
Sam Baker, Founder of Haversham & Baker Golfing Expeditions, describes the Society and the qualifications for membership: "The number of PGA Club Professionals who use our firm to host international golfing expeditions for their members has grown exponentially over the years, from fewer than 15 a decade ago to more than 150 at present. Based on this, we decided to create The Society of Links Captains to recognize the professionals who have provided their members with so many exceptional overseas golf travel experiences that they stand head and shoulders above the rest. Selecting our first three charter members was easy. All three host at least one international trip for their members each year. John McMullen has personally organized and captained 13 expeditions. Nick Papadakes has led 12 and Ted Antonopoulos 17."
The three PGA Professionals received their awards, along with a $1000 contribution to the golf related charity of their choice, at a ceremony held during the annual H&B Private Club Reception at the PGA Merchandise Show in Orlando. Upon hearing news of the honor, Nick Papadakes had this to say, "Onwentsia's first pro came to the club from St. Andrews and was a disciple of Old Tom Morris. The two subsequent pros were from Scotland too. So being able to do these trips provides the members with a way to really get in touch with the club's roots. Being able to do that is, for me, honor enough. To be recognized for this labor of love is icing on the cake."
John McMullen had this to say, "I've always believed in keeping the history and traditions of the game alive and current for those who love the game. As the Head PGA Professional at Hillcrest, I'm obligated to those members who love the game to do whatever I can to get them closer to these traditions. What better way than to connect them directly to not only the birthplace of the game but to how it's enjoyed and played in other parts of the world. Being inducted as a charter member into a society that's all about this specific mission validates one of my core beliefs."
Ted Antonopoulos, whose induction includes the added honor of inducting future members of the Society as its Honorary Chairman, offered the following comment, "It's not just about travel, it's about creating new bonds and friendships. We've had members who barely knew each other, after sharing the experience an expedition they become close friends for life. Seeing that happen gives me a lot of personal and professional satisfaction. Another reason that these trips are beneficial for our Members is that it gives us an opportunity to show them or remind them about what truly matters in golf. In today's world, at least in this country it's more about the excessive amenities that each club offers in their effort to outdo their competition. But for me, it's not about the comfort stations. The real benefit of taking our members to these great and even lesser known clubs in the UK and Ireland is to remind them about what is truly important … that it's about the golf!"
Haversham & Baker Golfing Expeditions, a Cincinnati-based firm, is the leading provider of International golf travel arrangements to America's private clubs and their members. Named by Forbes as the best bespoke golf travel company, H&B has also been twice recognized as The World's Best Golf Tour Operator by the World Golf Awards, twice received Golf Digest Editors' Choice awards, and twice designated Tour Operator of the Year by Golf Tourism Scotland. Since its inception in 1991, H&B has served the members of more than 1200 different U.S. private clubs. Delivering Golf at its Finest, Life at its Best and Memories that Last a Lifetime is more than a slogan, it's the mantra of each and every expedition.
For more information please contact company Founder, Sam Baker, at Sam(at)Haversham(dot)com or visit the firm's website at Haversham.com.