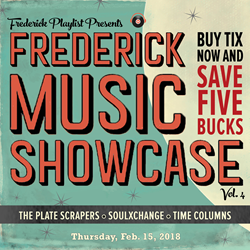 "Frederick is a great music town and to highlight some of its best musical minds on the city's biggest, most prestigious stage is an honor for all involved," said Colin McGuire, Frederick Playlist founder
FREDERICK, Md. (PRWEB) January 23, 2018
Frederick Playlist, the local music division of The Frederick News-Post, unveiled its 2018 lineup for The Frederick Music Showcase, Vol. 4, with The Plate Scrapers, SoulXchange, and Time Columns snagging the coveted three spots. The all ages local music showcase, now in its fourth year, highlights Frederick bands at the Weinberg Center for the Arts, on Thursday, February 15th at 7 pm.
"Frederick is a great music town and to highlight some of its best musical minds on the city's biggest, most prestigious stage is an honor for all involved," said Colin McGuire, Frederick Playlist founder and features editor for The Frederick News-Post.
Headliners will be The Plate Scrapers, a progressive bluegrass band that takes advantage of the sound-shaping tools of modern music to enhance their traditional folk instruments, whether it results in a screaming dobro or a sonically-warping banjo. The Plate Scrapers have toured extensively throughout the eastern part of the U.S. and have provided direct support for such names as The Seldom Scene, Keller Williams, and others.
SoulXchange is a soul, jazz, funk, and blues band with improvisational jams by musicians whose technical proficiency encompasses a diverse breadth of genres. The band was originally founded by musical brothers Neil and Evan Durr, who first made names for themselves as part of Frederick live rap and R&B group Joint Effort. Guitarist Neil Durr has stepped to the foreground as the band's primary songwriter and lead instrumentalist. Recently, the band relocated to Austin, Texas, to pursue their musical endeavors there. SoulXchange returns to their hometown of Frederick, MD, for one night only to celebrate on the Weinberg stage.
Time Columns is a mostly instrumental post-prog math rock band from Frederick. They're known as the creative endeavor of local recording engineer and producer Kenny Eaton of Mystery Ton Studios. Time Columns has gained regional respect for their seductive pattern-making and looped guitar and bass lines, which build thick layers of sound sculpture.
Tickets to The Frederick Music Showcase are available at http://www.weinbergcenter.org.
About Frederick Playlist: Part of The Frederick News-Post, Frederick Playlist brings each facet of the Frederick area music community together. Through photos, videos, podcasts, reviews, festival coverage, concert coverage, venue/artist profiles and a calendar of events that maps out where to find live local music, Frederick Playlist aims to be the most comprehensive destination for local music in the Frederick area.