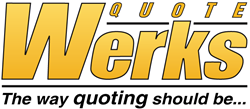 Providing integrations and features that are important to our users is a core tenant of our philosophy...
ORLANDO, Fla. (PRWEB) January 23, 2018
Aspire Technologies, Inc., a leading provider of sales quoting and proposal software solutions (CPQ) for the global small and mid-markets, today announced a new integration with QuickBooks Online.
The new QuickBooks Online integration includes a variety of features to help users export documents from QuoteWerks to QuickBooks Online. The integration automates the creation of documents in QuickBooks Online and removes manual entry, reducing errors in the accounting software.
The QuickBooks Online integration includes:

Customer account/contact support, including creating customers that do not exist
Ability to export as Estimate, Invoice, or Sales Receipt
Creating items that do not exist
Retrieving items for quoting from QuickBooks Online item list
Creating Purchase Orders
Additionally, the integration utilizes a site license subscription allowing any user who has access to QuoteWerks and QuickBooks Online to export documents to QuickBooks Online. There's no limitation on the number of documents that can be exported.
"QuoteWerks has always had an incredibly robust QuickBooks Desktop integration and we are very proud to now also support an equally feature-rich integration for QuickBooks Online. Providing integrations and features that are important to our users is a core tenant of our philosophy and this new integration will continue to provide our users with an easy way to automate the transfer of important sales data between QuoteWerks and QuickBooks," says, John C. Lewe IV, President and Lead Developer of QuoteWerks.
The QuickBooks Online integration requires the Professional or Corporate Edition, a valid UMP subscription, and a subscription from QuoteWerks that can be purchased on a monthly or annual cycle. Users can contact their account manager to get started.
About Aspire Technologies and QuoteWerks®
Aspire Technologies, Inc., the developers of QuoteWerks, is one of the early pioneers of the Quoting Software space. QuoteWerks has received numerous awards and is the market leading sales quoting and proposal solution serving over 83,000 users in over 101 countries. QuoteWerks® integrates with leading CRM, PSA, and accounting packages, along with IT distributors D&H®, Ingram Micro®, SYNNEX®, and Tech Data®, enabling businesses in all industries to integrate QuoteWerks® seamlessly into their existing environments. Aspire Technologies is headquartered in Orlando, Florida and is a Microsoft Certified Partner and CompTIA member. For more information, please visit http://www.quotewerks.com.
QuoteWerks is a registered trademark of Aspire Technologies, Inc. Other trademarks referenced are the property of their respective owners.