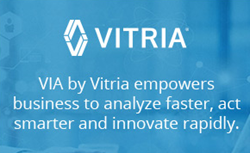 The availability of new sources of data, coupled with the ability to act in real time is putting operations at the forefront of digital business" according to JoMei Chang, CEO of Vitria Technology.
MENLO PARK, Calif. (PRWEB) January 24, 2018
Fortune interviewed Vitria CEO, JoMei Chang and included her perspectives about the impact IoT has had on analytics and how organizations can take advantage of real-time operational analytics. THE CLOUD OF THINGS appearing in Fortune's Most Admired Companies issue explores what companies should do now to create solutions that both delight customers and keep data protected in The Cloud of Things.
The confluence of cloud, intelligent devices and powerful networks is automating everything from smart homes and cities, to autonomous vehicles and commercial robotics. Digital business requires real time analytics to exploit these advances.
"The availability of new sources of data, coupled with the ability to act in real time is putting operations at the forefront of digital business. The biggest pool of IoT data, or the most accurate AI algorithms will have limited value if not embedded in real-time operations" according to JoMei Chang, CEO and Co-Founder of Vitria Technology. "Making use of analytic insight to drive action during everyday operations is the key to improving business outcomes."
Vitria has responded to the challenges of the Cloud Of Things by bringing to market an analytics platform with solutions providing real-time visibility, insight and action. VIA by Vitria enables companies to leverage IoT, Big Data, Artificial Intelligence and Machine Learning to close the gap between technology promises and real business solutions. Winning companies are adopting analytics to gain the necessary insight to act in real time.
In "Business Thrives at the Intersection of the Cloud and the IoT," Fortune notes that according to the Cisco Global Cloud Index, a year from now IoT-generated data will be 49 times greater than all data center traffic.
VIA by Vitria leverages the scale and power of cloud computing and uses analytics to extract value from the increasing volume and complexity of data. VIA's agile analytics keeps pace with streaming data, provides multi-role visualization, reliable insights and real time actions.
Fortune cites Vitria as a market leader in IoT analytics, quoting CTO and Co-Founder Dale Skeen on
the value of cloud-based, real-time analytics: "More and more analytics need to be real-time in digital business, to enable new ways of engaging customers and new business models. Companies require a platform where data changes can propagate immediately, throughout the analytics value chain, enabling the right action at the right time."
To see the full article, visit:
http://vitria.io/2EqQkrc
ABOUT VIA by VITRA
VIA by Vitria accelerates companies' digital transformation by empowering them to rapidly operationalize AI and analytics. VIA's innovative visual development environment, together with prefabricated solution templates, provide companies with a 100x or more productivity gain in deploying big data & IoT solutions. Businesses rely on VIA for higher productivity, improved quality of products and services, predictable profits and an exceptional customer experience.