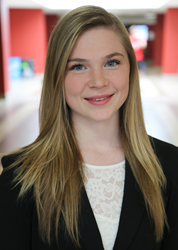 I aspire to continue learning throughout my life and engage in opportunities where I can expand my knowledgebase even after I have graduated from PT school
MORGAN HILL, Calif. (PRWEB) January 26, 2018
For its inaugural year, Reminder Services, Inc. awarded $5,000 in scholarships to help promising physical therapy students who exhibit academic excellence and a strong sense of personal commitment continue their education.
The winners of the 2017-18 ReminderCall.com Physical Therapy Scholarship are:

Emily Bjanes, University of Pittsburgh
Jacqueline Green Marquette University
Lucas Zastrow, University of Toledo
Lauren Cammarene Wessel, Wingate University
Megan Renn, University of Pittsburgh
"My long-term goals as a PT include getting my certification as a sports specialist, participating in a manual therapy fellowship, and becoming a clinic director or even opening my own PT clinic one day. I aspire to continue learning throughout my life and engage in opportunities where I can expand my knowledgebase even after I have graduated from PT school," said Bjanes, a second-year graduate student.
The growing program, launched this past September, is open to undergraduate and graduate students with a cumulative GPA of 3.0 or higher who are enrolled in a physical therapy program at a credited college or university.
"ReminderCall.com has been providing patient reminders to physical therapists since 1998. Over the years we've come to realize that the physical therapy field is often overlooked by scholarship grantors," said Chantal Oicles, President. "We're excited to help aspiring PTs fund their education. It's our way of thanking the physical therapy community for welcoming us with open arms."
Learn more about the program at http://www.remindercall.com/physical-therapy-scholarship.
###
About Reminder Services, Inc.
Reminder Services, Inc. is a Silicon-Valley based company that provides automated appointment reminders. The ReminderCall.com system lets therapists send appointment reminder calls, reminder text messages and reminder emails to patients. We work with an impressive list of Physical Therapy EHRs, EMRs, and scheduling software products. Therapists can customize everything, from voices and languages to delivery dates, times and frequencies. We help adhere to FCC, TCPA, CAN-SPAM, HIPAA and CASL guidelines.