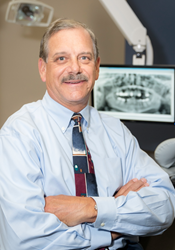 A Dental Implant Allows Us to Replace an Individual Tooth Without Affecting the Other Teeth.
HICKORY, N.C. (PRWEB) January 24, 2018
Dr. Dale Spencer of Hickory Dental Care is now welcoming new patients, with or without a referral, to receive dental implants in Hickory, NC. Considered the gold standard of tooth replacement, dental implants are long-term solutions to missing teeth. Dr. Spencer offers tooth extractions, dental implant placement as well as implant restorations so patients can receive all their implant needs from one location.
"A dental implant allows us to replace an individual tooth without affecting the other teeth," says Dr. Spencer. "My experience is that dental implants last a long time and in a lot of cases, even a lifetime for patients." Dr. Spencer recommends dental implants over other tooth replacement options, like bridges, for the long-term beneficial effects to a patient's oral health and to preserve surrounding tooth structure.
When a tooth is missing, a variety of problems can develop, including the loss of jaw bone volume, trouble eating or speaking, shifting teeth and a changing bite. To restore oral health, dental implants can be used to replace missing teeth without damaging the surrounding structures. Implants provide many more benefits to patients over their lifetime, including:

Jaw bone growth stimulation
Return of function to the bite
Permanence with proper care
Ability to eat more foods
Improved speech
Enhanced self-confidence
Dr. Spencer is experienced in all aspects of dental implant placement and restoration. If a tooth is past saving, extraction and replacement with an implant is often recommended. Many times, after implant surgery has been performed, the patient is referred to another doctor for restoration of the crown. At Hickory Dental Care, Dr. Spencer is skilled in restoring implants with natural-looking dental crowns, so patients can receive their entire treatment in one location.
Those with missing teeth and who are seeking dental implants in Hickory, NC, are welcome to schedule a consultation with Dr. Spencer at Hickory Dental Care. The practice can be reached by calling 828-270-7853 or visiting http://www.hickorydental.com.
About the Doctor
Hickory Dental Care offers modern, comprehensive dental care to patients in Hickory, NC, including general dentistry, dental implants, sedation treatment and cosmetic dentistry. Dr. Dale Spencer is a graduate of the University of North Carolina at Chapel Hill, a Fellow of the American Academy of Implant Dentistry and a Diplomate of the American Board of Oral Implantology/Implant Dentistry. Dr. Spencer is experienced in implant dentistry and is certified to administer IV sedation. Dr. Nick Wentworth graduated from the University of New England. He and Dr. Spencer are trained in the latest dental technology to offer comprehensive, comfortable, and predicable treatments for patients. The Hickory Dental Care team is dedicated to providing exceptional care for their patients and strive to create an office environment that is welcoming, compassionate, and of the highest quality. To learn more about Drs. Spencer and Wentworth and the services they offer, call 828-270-7853 or visit http://www.hickorydental.com to schedule a consultation.