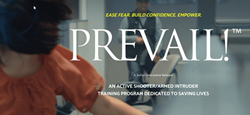 We are thoroughly impressed with the facilitator and employee materials that were included with the program. These will be very useful with training our employees and giving us a direction on how to be the most effective.
DES MOINES, Iowa (PRWEB) January 23, 2018
Sollah Interactive has partnered with Strategos International to develop a powerful, comprehensive armed intruder/active shooter training program called PREVAIL!™.
An active shooter situation is something few of us have prepared for. And it's that lack of preparation that raises anxiety…and fear. Training increases our ability to take appropriate action. It gives us a greater sense of preparedness, which will help with anxiety and stress levels - especially during a shooter situation.
PREVAIL! is a completely new approach to active shooter training. Learners watch a dramatic active shooter event - then sub-modules introduce and reinforce key learning points. The program also comes with indepth, easy-to-use facilitation materials.
PREVAIL! focuses on the life-saving principles and tactics one can use when faced with an active shooter event - providing greater situational understanding. Based on the tested 3-OUT Approach (LOCK OUT - GET OUT - TAKE OUT) - this comprehensive program is designed specifically to help an organization prevail by taking the appropriate actions in an active shooter event. Informed, confident and trained people dramatically increase their chances of prevailing!
PREVAIL! can be used in any organization - including workplaces/businesses, factories, hospitals, schools, government buildings, places of worship, universities/colleges and by first responders. The easy-to-understand 3-OUT Approach is intended to create a quick, trained, non-linear, situational response to a violent intruder.
PREVAIL! raises personal awareness when it comes to potential workplace violence threats and/or an active shooter event. A trained response will save lives...yours and those around you!
PREVAIL! can be previewed and purchased at http://www.prevailnow.com. For more information on the power of PREVAIL!, please contact clientservices(at)sollah(dot)com or call us at 800-300-8880.
About Sollah Interactive
Sollah Interactive produces engaging, memorable and effective training content that maximizes employee knowledge transfer and retention. Sollah launched its training platform TAG® (http://www.trainingassetsgateway.com), to facilitate rapid training development by empowering trainers to build new training or blend downloadable components into their existing training. http://www.sollah.com.