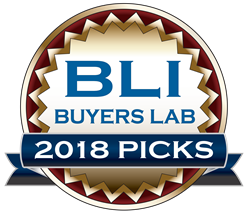 FAIRFIELD, N.J. (PRWEB) January 23, 2018
Keypoint Intelligence - Buyers Lab (BLI), the world's leading independent provider of testing services and analytical information to the document imaging industry, today announced the winners of its coveted Winter 2018 Pick and Outstanding Achievement in Innovation awards in the Scanner category, with the honors going to standout solutions from Alaris (a Kodak Alaris business), Canon, Epson, Fujitsu, and Panasonic.
BLI's Winter 2018 Scanner awards go to the following exceptional devices*:
ALARIS S2000 SERIES
Outstanding Departmental Scanner
KODAK I3300 SCANNER FROM ALARIS
Outstanding Light Production Scanner
ALARIS PASSPORT FLATBED ACCESSORY
Outstanding Achievement in Innovation
CANON IMAGEFORMULA DR-M260
Outstanding Workgroup Scanner
EPSON WORKFORCE DS-320
Outstanding Mobile Scanner for Business
FUJITSU SCANSNAP N7100 NETWORK SCANNER
Outstanding Network Scanner
PANASONIC KV-SSM100 NETWORK SCANNER SOLUTION
Outstanding Achievement in Innovation
*Not all products are sold in all regions.
ALARIS DELIVERS INNOVATIVE, INTELLIGENT DOCUMENT CAPTURE
The Alaris S2000 Series was recognized for its intelligent, automated features that help businesses convert their paper-based processes to digital form. "With the S2000 Series, users can easily integrate paper-based information into digital repositories, business process optimization solutions, and big data and analytics platforms, or share it with others," said Joe Ellerman, Manager of Lab Operations for BLI.
The Kodak i3300 Scanner provides businesses with reliable light production scanning. "The i3300 was an excellent performer, delivering fast scanning speeds, robust media handling and batch processing, and a smart feature set built to help accelerate scanning workflows," said Lee Davis, Editor of Scanners/Software Evaluation for BLI.
Keypoint Intelligence recognized the Alaris Passport Flatbed Accessory for its innovative approach to scanning passports and other delicate documents. "Since the Alaris Passport Flatbed Accessory can handle exception documents as well as passports, it makes perfect sense for customers who don't want to invest in a dedicated passport scanner that might see only occasional use," said Jamie Bsales, Director of Workflow Solutions for Keypoint Intelligence.
CANON PROVIDES FAST AND RELIABLE SCANNING FOR THE WORKGROUP
The Canon imageFORMULA DR-M260 combines fast and reliable document scanning with an easy user experience and impressive built-in image enhancement features to help workgroups convert their paper-based processes to digital form. "The Canon imageFORMULA DR-M260 offers some impressive media handling capabilities to keep workers moving. Sensors in the paper path and ejection sites reduce downtime and rescans and ensure that documents aren't damaged," noted Ellerman.
EPSON: A MOBILE SCANNER FIT FOR THE DESKTOP
Keypoint Intelligence analysts were very impressed with the Epson WorkForce DS-320's portability and versatility. "The Epson WorkForce DS-320 is fast and powerful enough to serve as a low-volume desktop scanner, but compact and lightweight enough to bring on the road," said Davis.
FUJITSU'S NETWORK SCANNER OFFERS TOP-NOTCH USER EXPERIENCE
The analysts at Keypoint Intelligence were impressed with how easy it was to capture paper-based information using the ScanSnap N7100 network scanner. "Users can create custom preconfigured scan profiles to streamline frequently recurring scan chores, and personalize the ScanSnap N7100's interface so that it displays features and functionalities they use the most," noted Bsales.
PANASONIC'S COST-EFFECTIVE NETWORK SCANNING SOLUTION
The Panasonic KV-SM110 Network Scanner Solution received an Outstanding Achievement in Innovation award for its unique ability to convert the company's USB-connected desktop scanners into network scanners. "Thanks to the KV-SSM100, businesses can replace multiple USB-connected desktop scanners with a single device, rather than purchasing a costly new network scanner," said Davis.
ABOUT KEYPOINT INTELLIGENCE - BUYERS LAB
Keypoint Intelligence is a one-stop shop for the digital imaging industry. With our unparalleled tools and unmatched depth of knowledge, we cut through the noise of data to offer clients the unbiased insights and responsive tools they need in those mission-critical moments that define their products and empower their sales.
For over 50 years, Buyers Lab has been the global document imaging industry's resource for unbiased and reliable information, test data, and competitive selling tools. What started out as a consumer-based publication about office equipment has become an all-encompassing industry resource. Buyers Lab evolves in tandem with the ever-changing landscape of document imaging solutions, constantly updating our methods, expanding our offerings, and tracking cutting-edge developments.
ABOUT BUYERS LAB PICK AWARDS
Buyers Lab Picks stand alone in the industry and are hard-earned awards, as they are based on rigorous testing, including an extensive durability assessment and evaluation of key attributes such as usability, image quality, and value. Each product that passes our lab test earns Buyers Lab's Recommended or Highly Recommended seal and our Certificate of Reliability, with the best performers qualifying as Pick contenders.
ABOUT BUYERS LAB OUTSTANDING ACHIEVEMENT AWARDS
Buyers Lab Outstanding Achievement awards acknowledge products or capabilities that stand out for attributes such as innovation, usefulness, or value.