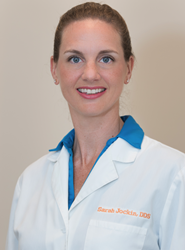 LUTZ, Fla. (PRWEB) January 24, 2018
Drs. Sarah Jockin, Sara Spear and Ashley Nati, of Lake Park Dental, welcome new patients to their practice for full-arch tooth replacement using SmartFix® dental implant solutions, with or without a referral. The advanced dental implant system is an alternative to replacing missing teeth with traditional dentures. Providing a number of health and cosmetic benefits, the SmartFix concept is often preferred over dentures by patients with extensive tooth loss. Dr. Jockin and her associates are highly skilled in advanced general and implant dentistry techniques, and are leaders in using CEREC® technology to restore dental implants in Lutz, FL patients.
The SmartFix dental implant solution works through a series of four or more implants, placed within the jaw. A portion of the implants is angled, allowing for improved anatomical positioning and use of available bone. Integrating with the jaw bone, the implants support a full-arch prosthetic, or set of replacement teeth, returning oral function and esthetics to the smile after the loss of natural teeth. Dental implants are a permanent solution to tooth loss, and often are preferred over dentures for the lasting health and cosmetic benefits they provide.
With the SmartFix dental implant solution, many patients enjoy improved confidence and quality of life, among other benefits. Implants are a long-term solution, stabilizing replacement teeth and eliminating the slipping and movement of traditional dentures. The option also creates a more secure biting function, helps preserve jaw bone health, and gives a natural look and feel to the smile. The Lake Park dental team offers the denture alterative for the wide variety of health and esthetic benefits it offers. The dentists are skilled in establishing a functional, cosmetic smile after tooth loss, and use CEREC technology to create highly esthetic new teeth for restoring dental implants in Lutz, FL and the greater Tampa Bay area.
Patients seeking an alternative to dentures, or who would like more information on full-arch dental implants in Lutz, FL, are encouraged to call 813-527-9890 to schedule a consultation with Drs. Jockin, Spear or Nati, or visit http://www.implantdentisttampa.com for more on their services.
About the Practice
Lake Park Dental offers leading general and implant dentistry to patients in Lutz, FL. Drs. Sarah Jockin, Sara Spear and Ashley Nati understand how important receiving comfortable and reliable dental care is which is why they strive to create a welcoming environment at their state-of-the-art practice and stay up-to-date on the latest advancements in dentistry. Providing convenient treatment patients can depend on, Lake Park Dental offers skilled and comprehensive care utilizing modern dental technology all at one office. Dental implants, cosmetic dentistry, wire braces, Invisalign® and laser dentistry, among other services, are all offered at Lake Park Dental. More information about Drs. Jockin, Spear and Nati or the services they offer can be found on their website at http://www.implantdentisttampa.com. Those interested in scheduling a consultation can call 813-527-9890.