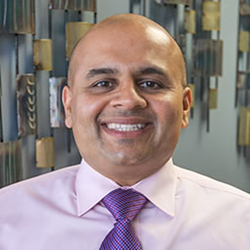 SCHAUMBURG, Ill. (PRWEB) January 24, 2018
Dr. Jig Patel is offering leading-edge restoration solutions including the quick, non-invasive Snap-on-Smile® to new patients, with or without a referral. Throughout his career as a well-respected dentist, Dr. Patel has focused heavily on offering the latest cosmetic dentistry options to craft unique smiles and custom smile makeovers in Schaumburg, IL.
Snap-on-Smile addresses a problem that Dr. Patel sees regularly at his practice: Patients who want the benefit of a smile makeover in Schaumburg, IL, without waiting to have their teeth moved, re-shaped, or capped. Patients in this category are often reluctant to initially try long-term solutions like orthodontics, dental implants, or even Lumineers®. Instead, they want a faster remedy that requires no surgical intervention or downtime.
A Snap-on-Smile provides an immediate solution for individuals who have upper front teeth that are crooked, cracked, discolored, or are otherwise not aesthetically appealing. Snap-on-Smile can also be a solution for people who are not candidates for dental implants because of mitigating medical factors.
The Snap-on-Smile appliance is created utilizing high-end computer software and fits snugly over the tops of the existing teeth. When snapped into place by the patient, it blends into the mouth and looks completely natural in color and design.
A Snap-on-Smile can only be obtained through a certified provider like Dr. Patel. With extensive training in cosmetic dentistry treatments, he can lean on his wealth of expertise to provide safe, outstanding solutions that meet the unique goals of each patient. Those who receive cosmetic treatment regularly report a deeper satisfaction with their aesthetic appearance and a stronger sense of confidence in social situations.
Those interested in discussing a smile makeover in Schaumburg, IL, are invited to contact his office, Schaumburg Dental Studio, at 847-348-8673. New patients, including self-referred adults and families, are welcome.
About the Practice
Schaumburg Dental Studio is a general and cosmetic dental practice offering personalized dental care to patients in Schaumburg, IL since 2004. With nearly 20 years of experience, Dr. Jig Patel provides cutting-edge care including dental implants, laser gum disease therapy, orthodontics and cosmetic dentistry treatments. Dedicated to his patients, he frequently participates in community charities including the Dentistry from the Heart Program each year. A patient-centered office, the entire team at Schaumburg Dental Studio strives to offer leading-edge treatments using the latest technology while also making them affordable for their community. To learn more about Dr. Patel, Schaumburg Dental Studio or the services they offer visit their website at http://www.SchaumburgDentalStudio.com or call 847-348-8673 to schedule a custom consultation.