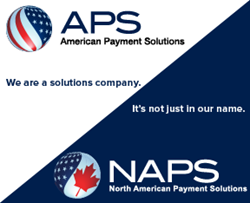 "By combining the competitive processing rates and state-of-the-art security of APS with the flexible mobility of Sage 100, we're empowering SMBs with error-free, fast payment processing on the go," said Phillip Heath, President of American Payment Solutions.
MESA, Ariz. (PRWEB) February 06, 2018
American Payment Solutions (APS), leading integrated Acumatica and Sage credit card processing solution, announces annual 90 Minds, Meeting of the Minds sponsorship. The annual 90 Minds, Meeting of the Minds 2018 will be held March 1 through March 3, 2018 in San Diego, CA. The Meeting of the Minds offers Sage and Acumatica ERP consultants, resellers, developers, ISVs, and software publishers the opportunity to collaborate and share relevant competitive industry information enabling these member companies to propel their mutual business to the next level.
APS' Acumatica merchant services integration is an Acumatica-Certified Application (ACA). This title represents a select group of development partners whose applications have met the highest standards set for Acumatica integration and functionality. Acumatica is a comprehensive, browser-based cloud ERP solution optimized for ease of use, adaptability, mobility, speed and security.
"Customers who want to stay competitive need flexible, responsive technology to execute their long-term business strategies," said Christian Lindberg, Vice President of Partner Solutions at Acumatica. "Our ACA label is built to help customers find applications capable of delivering that. We're proud to recognize American Payment Solutions as an Acumatica-Certified Application. It masterfully utilizes the Acumatica platform to meet customers' growing business demands."
APS' Sage credit card processing integration is an option available to Sage users allowing them to reduce complexity, streamline credit card processing and exceed customer expectations. The American Payment Solution Sage credit card processing integration reduces credit card processing fees and improves cash flow.
About American Payment Solutions
American Payment Solutions is one of the nation's leading credit card processing companies, providing 24/7 award-winning customer support, guaranteed rates, and up-to-date technology to thousands of merchants. American Payment Solutions is headquartered in Mesa, AZ with several field offices throughout the United States and Canada. For more information, please visit http://www.apsmerchants.com. American Payment Solutions is a registered ISO/MSP of Esquire Bank, Garden City, NY 11530. North American Payment Solutions is a registered MSP/ISO of the Canadian branch of U.S. Bank National Association and Elavon, Inc. Georgia [a wholly owned subsidiary of U.S. Bancorp, Minneapolis, MN].