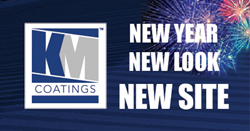 We are pleased with the new website which allows for improved online access to our products, people and services," said Brady Kolden, national coatings manager for KM Coatings. "The website was constructed with the needs of our customers in mind and reflects our dedication and commitment to them.
PHOENIX (PRWEB) January 24, 2018
KM Coatings, a manufacturer of quality roof coatings for roofing professionals, announced today the launch of its new website. Introduced on Jan. 22, 2018, the new site is dynamic, searchable and improves the web experience for visitors.
The new design is modern with cleaner page layouts featuring hues of blue, gray and white to match the KM Coatings rebranding. From the website, contractors can sign up for the KM Academy, search and download content, and connect with roofing experts.
"We are pleased with the new website which allows for improved online access to our products, people and services," said Brady Kolden, national coatings manager for KM Coatings. "The website was constructed with the needs of our customers in mind and reflects our dedication and commitment to them. We believe they will find what they need every time they come through our virtual doors."
About KM Coatings
KM Coatings has been manufacturing liquid-applied membranes for over 30 years and joined the Polyglass U.S.A., Inc. family in 2014. KM Coatings offers a complete selection of acrylic and silicone elastomeric roof coatings in a variety of colors. When applied over an entire roof, KM Coatings roof systems cure to form a seamless membrane and can extend the service life of an existing roof by 5-20 years. For more information visit kmcoatings.us