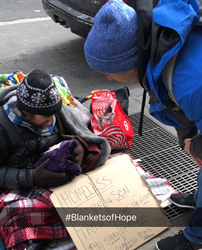 BROOKLYN, N.Y. (PRWEB) January 23, 2018
Today, social entrepreneurs Mike and Nick Fiorito (aka the happyFreaks) handed out their 700th blanket of the season to a homeless person in need.
In their second annual #BlanketsofHope campaign, the brothers raised over $15,000 on GoFundMe using their social media accounts.
The project began in 2016 after the brothers quit their corporate jobs in search of more fulfilling work.
With the help of friends and family they handed out 100 blankets and handwritten notes to the homeless of New York City, each with a simple message: "We believe in you."
Little did they know, their simple project would turn into a growing movement.
After being honored by Brooklyn Borough President Adams as Brooklyn's Heroes of the Month, their story was featured on the local news.
"After our story was featured on the news, more and more people started to reach out wanting to get involved. But we never expected #BlanketsofHope to cross state borders," says Nick Fiorito.
After seeing the #BlanketsofHope story on the news, the brothers' former elementary school teacher, Kelly Hynes, felt inspired to get her school in Delaware involved. Hynes led the entire 4th and 5th grade classes at Love Creek Elementary in Delaware as they handed out 215 blankets and handwritten notes to the homeless of Sussex County.
Since then, Mike and Nick have decided to start traveling to other major cities with large homeless populations to continue the movement's national expansion, starting with the nation's capital.
"We figured D.C. can use a little love right now," says Mike Fiorito.
The brothers have made it their goal to give out 1,000 blankets by the end of February, but hope to greatly exceed that number with their newly announced nation-wide efforts.