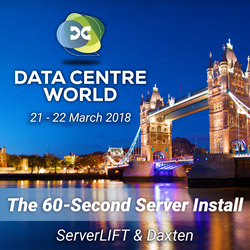 The hands-on demonstration, at DCW in London, allows visitors to see how a server lift can turn a dangerous, 3-person install into a smooth, efficient, professional, 1-person operation.
(PRWEB) January 29, 2018
ServerLIFT Corporation and Daxten Limited will demonstrate their "60-second server install" at Data Centre World (DCW) in London, from 21-22 March 2018. DCW's visitors can actually use a server lift to install a device in a server rack. "Data center managers who experience this for the first time are amazed at how much easier it is to install and remove servers," says Chad Rislov with Daxten.
The ServerLIFT 60-second install is considerably faster than an unassisted installation. That can take as long as a half an hour (not to mention it requires manually lifting heavy and expensive servers, risking injury and equipment damage). The hands-on demonstration, at DCW in London, allows visitors to actually see how a server lift can turn a dangerous three-person install into a smooth, efficient, professional, one-person operation.
"Show visitors can actually see that there's a server lift solution. They may not have known that it even existed beforehand," says Steve Bashkin, the Director of Sales at ServerLIFT Corporation.
Rislov agrees. "When you're installing a server in a data center, without a proper lift, you always have the problem of holding it in place and locking in the rails. All the while, you're lifting it up, moving it down, and adjusting it. You have 3 people doing a job that 1 person should be able to do. With a server lift, on the other hand, you bring the server to the level you want, and a lone person can clip it in. It makes installations very fast and efficient."
Rislov, the managing director of Daxten in Berlin, says that his company is exhibiting at Data Centre World in London, because, "it is, by far, the largest data-center-centric show in Europe. It gets the most visitors, and it's the most interesting, with a good number of international customers." DCW organizers anticipate the attendance of more than 20,000 data center technology enthusiasts this year.
ServerLIFT, at Data Centre World, will demonstrate that it produces the only server lift that can effectively carry out all 3 fundamental tasks of a data center server lift:
1. Transporting (servers around the facility)
2. Positioning (servers precisely in the rack)
3. Installing (servers into or out of the rack).
When asked about alternative lifts, Jörg Poschen, the head of marketing at Daxten, said, "There is no real alternative. With other types of lifts, operators cannot use them from the beginning to the end. They just cannot cover the whole installation and lifting process. These more primitive devices cannot lift the equipment right into the rails. You need a server lift that can lift it right into the server rails."
Rislov, "expects a pretty good representation of all the products we have at the show. Several of the manufacturers are coming from different locations. Visitors can talk to not only the experts, including the manufacturers."
ServerLIFT & Daxten
Founded in Phoenix, Arizona in 2002, ServerLIFT provides server and heavy IT equipment handling solutions for data centers. They are the world's premier provider of server-handling solutions.
Since its founding, in London in 1994, Daxten has helped data centers optimize cooling, environmental monitoring, power, and power distribution. They work to improve data center resource efficiency and reliability in both small and large data centers.
The two partners are committed to making the data center environment safer and more effective.