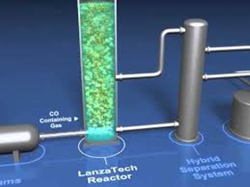 "TeselaGen has a reliable platform for modern industrial DNA design and cloning," said Michael Koepke PhD, Director of Synthetic Biology, LanzaTech.
SAN FRANCISCO (PRWEB) January 23, 2018
Developing biological solutions for transformative products like carbon-negative biofuels requires innovative use of molecular design technology. Today, TeselaGen Biotechnology Inc. and LanzaTech announced that LanzaTech will license TeselaGen's proprietary cloud-based informatics solution and will collaborate closely with TeselaGen, extending its state-of-the-art biological design platform to include artificial intelligence capabilities that speed up the design process.
"Automated biological design is an essential foundation for our carbon recycling technology and TeselaGen has a reliable platform for modern industrial DNA design and cloning," said Michael Koepke PhD, Director of Synthetic Biology, LanzaTech. "The modular private-cloud approach will work well with our current systems and will accelerate our discovery efforts for sustainable chemicals production. This collaboration will emphasize not only our current capabilities but will advance analytic approaches dictated by our datasets, moving us closer to a carbon smart future!"
As a secure enterprise quality addition to LanzaTech's advanced R&D infrastructure, the TeselaGen private-cloud platform will enable scientists at LanzaTech to advance their research finding new ways to reliably modify microbes that produce low carbon fuels and chemicals from waste emissions, including those from heavy industry or from gasified municipal solid waste or agricultural residues.
Michael Fero PhD, Chief Executive Officer, TeselaGen, said, "TeselaGen is building a platform that utilizes advanced analytics to automate and optimize protocol generation and information flow for biomanufacturing. Biotechnology is essentially an information technology; improving the flow, handling and interpretation of information is a tremendous accelerant for biotech product development. LanzaTech has been a valuable partner during the development of our Design module, and we are now ideally positioned to close the loop with the Build and Test modules which are so important for the collection of well-curated data for advanced analytics and deep learning. Bio-based product development at a fraction of the traditional cost is the goal. LanzaTech is doing great work to build better "carbon smart" industrial processes and products and we are very happy to be a part of accelerating that effort."
About LanzaTech
LanzaTech has developed a unique microbial capability that captures and recycles a broad spectrum of gases for fuel and chemical production with over 50 different molecules demonstrated. Proprietary microbes combined with innovative approaches in bioreactor design and process development have enabled rapid scale up to take place. The first 2 commercial units converting steel mill waste gases to fuels are being built; in China with Shougang and in Belgium with the world's largest steelmaker, ArcelorMittal. Across the supply chain, LanzaTech promotes a "carbon smart" circular economy, where both gas providers and end users can choose to be resource efficient by recycling or "sequestering" carbon into new products rather than making them from fossil reserves. Founded in New Zealand, LanzaTech has raised more than US$250 million from investors including Khosla Ventures, K1W1, Qiming Venture Partners, Petronas, Mitsui, Siemens, China International Capital Corp, Suncor, China International Investment Corporation (CITIC) and the New Zealand Superannuation Fund.
About TeselaGen
TeselaGen is building a deep learning powered solution for rapid, precise and accurate DNA making and modification. TeselaGen's cloud-based enterprise platform bridges the gap between good ideas and the realization of valuable products like vaccines, biologic medicines, and sustainably sourced chemicals. Positioned at the intersection between design and biology, TeselaGen is applying forward engineering approaches to design, build and test in the biological realm. TeselaGen is privately held and is based in the software hub of San Francisco, CA. The company has received early recognition in the form of four US National Science Foundation funding awards, a US Department of Energy funding award, Corfo award, and a Bio-IT World Best Practices Award. TeselaGen uses its proprietary Synthetic Evolution® technology for efficient rapid prototyping and editing of recombinant molecules. Follow TeselaGen on Twitter, and learn more at teselagen.com.