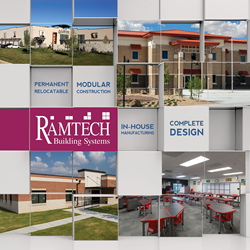 MANSFIELD, Texas (PRWEB) January 23, 2018
Design-build construction firm Ramtech Building Systems of Mansfield, Texas has announced that the company will unveil its new education market trade booth at the Texas Association of School Administrators Midwinter Conference being held at the Austin Convention Center January 29-30 in Austin, Texas. The new booth, and a custom designed kiosk, will feature the company's relocatable portable classroom designs and two types of permanent modular construction for modular school buildings. The annual conference is expected to draw over 4,500 attendees including superintendents and other major decision makers representing over 950 public school districts and Education Service Centers throughout Texas. The exhibition schedule will begin on Monday, January 29 at 8:00 am.
The TASA Midwinter Conference has become the most popular conference of the year for Texas school leaders, providing valuable opportunities for educators to come together to share innovative practices, network with peers, and gain fresh insights. The conference is organized around General, Thought Leader, and Concurrent sessions that focus on topics including school leadership, student engagement, finance, human resource management, digital learning, facility planning, operations, and assessment and accountability. The three general session keynote speakers are Chip Heath, professor at the Stanford Graduate School of Business, Texas Commissioner of Education Mike Morath, and Dr. Peter DeWitt, a syndicated writer and former blogger for Education Week's Finding Common Ground. In addition to displaying their standard relocatable and permanent modular building products, Ramtech will also feature its Slab-on-Grade Permanent Modular Construction approach. This turnkey method combines offsite manufacturing and on-site construction techniques in order to produce a building faster and with less design and construction costs than a completely site built structure.
About Ramtech and Permanent Modular Construction
Since 1982 Ramtech Building Systems has been providing innovative relocatable and permanent modular buildings for educational institutions, government agencies, healthcare providers, and Fortune 500 companies throughout the Southern United States. As a design-build construction company, Ramtech offers full in-house design, a manufacturer direct product, and complete site construction services all within a single-source solution. Ramtech's Slab-on-Grade permanent modular construction process combines the best of off-site prefabrication and on-site construction techniques in order to produce a building faster and with less cost but identical in the look, functionality and life expectancy of a completely site-built structure. Ramtech accomplishes this by setting factory assembled modular sections complete with attached ceilings and walls - but no floors - directly onto a conventional concrete slab foundation. This allows the concrete slab to become the floor of the structure just like a site-built building. For more information, visit the company's website at RamtechModular.com