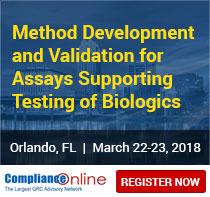 Palo Alto, CA, USA (PRWEB) January 24, 2018
Led by industry expert Gwen Wise-Blackman, Ph.D, ComplianceOnline's popular seminar on "Method Development and Validation for Assays Supporting Testing of Biologics" comes to Orlando, FL in 2018.
This 2-day seminar is designed to offer a broad overview of developing and validating a range of assay methodologies for biologics with specific key analysis of cell culture, assay variability, and DOE. Specifically, this seminar covers essential concepts related to cell-based potency methods, ELISA, and other methods supporting biologics. In addition to potency methods this seminar addresses immunogenicity methods for preclinical and clinical studies.
The format of the seminar offers an examination of current best practices as well as time to dissect examples of documentation with emphasis on beneficial systems to consider. Scientists who attend this 2-day seminar will gain knowledge that will be beneficial in helping to achieve well-controlled validated methods.
Method Development and Validation for Assays Supporting Testing of Biologics: 2-Day In-Person Seminar
Dates: Thursday, March 22, 2018 (8.30 AM- 4.30 PM) and Friday, March 23, 2018 (8.30 AM- 4.30 PM)
Location: Orlando, FL
Registration Cost: $1,699.00 per registration
Early bird discounts: For discounts on early registrations, please click here.
Register by phone: Please call our customer service specialists at +1-888-717-2436 or email to customercare@complianceonline.com
For more information on ComplianceOnline or to browse through our trainings, please visit our website.
About ComplianceOnline:
ComplianceOnline is a leading provider of regulatory compliance trainings for companies and professionals in regulated industries. ComplianceOnline has successfully trained over 55,000 professionals from 15,000 companies to comply with the requirements of regulatory agencies. ComplianceOnline is headquartered in Palo Alto, California and can be reached at http://www.complianceonline.com. ComplianceOnline is a MetricStream portal. MetricStream (http://www.metricstream.com) is a market leader in Enterprise-wide Governance, Risk, Compliance (GRC) and Quality Management Solutions for global corporations.
For more information please contact:
A Reuben Bernard
Associate Director - ComplianceOnline
2600 E Bayshore Rd
Palo Alto CA USA 94303
Phone - +1-650-238-9656 | +1-888-717-2436
Fax - 650-362-2367
Mail: reuben(at)complianceonline(dot)com
Website: http://www.complianceonline.com