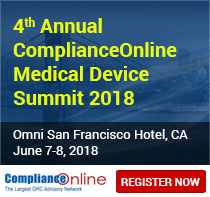 PALO ALTO, Calif. (PRWEB) January 23, 2018
ComplianceOnline, the leading governance, risk and compliance advisory network with over 1500 experts in various regulatory subjects has announced its 4th Annual Medical Device Summit 2018 speaker lineup. The Summit will take place on June 7 and 8, 2018 at the Omni San Francisco Hotel in CA.
The two-day event will feature 4 Keynotes, 12 impactful track sessions, 4 stimulating panel discussions and over 300 minutes of networking. This annual summit brings together current and former FDA office bearers, FBI officials, Editor in Chief at FDA Information Repository - IRAI, industry and regulatory specialists from around the world to address key issues in compliance, quality and innovation.
Stephen Allan Weitzman, Editor in Chief at FDA Information Repository – IRAI, will be joining as one of the key speakers at this year's summit. Stephen will kick off the day one with a keynote entitled: Adequate Directions for Use" in the Age of AI and Watson.
Register for early bird tickets to one of the largest gatherings of medical device industry experts this year.
Past Summit Speakers:

SSA Steven T. Sciavolino, Mission Critical Engagement Unit, Cyber Division, FBI
Adam Saltman, MD PhD, Medical Officer, CDRH/Office of Compliance
Stephen Allan Weitzman, Editor in Chief, FDA Information Repository, IRAI
Marisa White, Lead Consumer Safety Officer, Division of Bioresearch Monitoring, Office of Compliance, CDRH
Bakul Patel, Associate Director for Digital Health, FDA
Robin Newman, Director, Office of Compliance, Center for Devices and Radiological Health, FDA
Ronny Brown, Branch Chief for Medical Device Recalls, FDA
Daniel L. Aisen, Quality Assurance. Regulatory Compliance, Proven Leadership, Former FDA Field Investigator and Former Public Health Inspector Naval Chief Hospital
Seth D. Carmody, Ph.D, Cybersecurity Project Manager, CDRH
James Saviola, Deputy Director of Regulatory Affairs (Acting), and Director, Division of Biomedical Research, Office of Compliance, CDRH
Pat Baird, Regulatory Head of Global Software Standards, Philips
Nick Sikorski, CISSP, Senior Consultant, Deloitte Advisory
Darin Oppenheimer, (Regulatory Affairs Expert, Global Medical Device Regulations & Licensure Authority, Strategic & Engaging Leader, Baxter Healthcare Corporation)
Terri Jollymour, (Sr. Director, Operations Readiness & Convergence Johnson & Johnson Corporate Supply Chain Quality & Compliance)
Stan Mastrangelo, Technical Committee Member of working group on ISO 31000, ISO 14971, and ICH Q9 Standards
.. and more
In addition to illuminating keynotes, the event will feature panel discussions, focused workshops, and exhibitor's stalls.
Testimonials:
I think the summit was very well run and organized. It provided an excellent environment that was conducive to relaxed and meaningful interactions between FDA, industry, and even foreign medical device regulatory agencies.
-- Medical Officer, Center for Devices and Radiological Health, U.S. Food and Drug Administration (FDA)
This event was very focused on FDA regulatory training, standards and guidance. This was the main reason that I attended in this event and the event delivered all with high quality.
-- Research and Development Program Manager IV, Abbott
The FDA speakers really added a lot of value. There were many experienced industry speakers & I learned a lot from them.
-- CEO, Springborne Life Science
There was a very good presence of the FDA, who provided brief regulatory insights.
-- President and Chief Scientist, HirLan, Inc.
Excellent mix of topics with great presentations, worth every penny and time we spent there.
-- CEO, SEAS, Inc
Excellent speakers, diverse experience and background.
-- Senior Manager, Global Security Risk Management, Edwards Lifesciences
Dates: Thursday, June 7, 2018 (8.00 AM- 4.30 PM) and Friday, June 8, 2018 (8.00 AM- 4.30 PM)
Location: San Francisco, CA
Venue: Omni San Francisco Hotel500 California Street, San Francisco, CA 94104, USA
Registration Cost: $1,699.00 per registration
Early bird discounts: For discounts on early registrations, please click here.
Register by phone: Please call our customer service specialists at +1-888-717-2436 or email to customercare(at)complianceonline(dot)com
About ComplianceOnline
ComplianceOnline is a leading provider of regulatory compliance trainings for companies and professionals in regulated industries. ComplianceOnline has successfully trained over 55,000 professionals from 15,000 companies to comply with the requirements of regulatory agencies. ComplianceOnline is headquartered in Palo Alto, California and can be reached at http://www.complianceonline.com. ComplianceOnline is a MetricStream portal. MetricStream (http://www.metricstream.com) is a market leader in Enterprise-wide Governance, Risk, Compliance (GRC) and Quality Management Solutions for global corporations.
For more information please contact:
A Reuben Bernard
Associate Director - ComplianceOnline
2600 E Bayshore Rd
Palo Alto CA USA 94303
Phone - +1-650-238-9656 | +1-888-717-2436
Fax - 650-362-2367
Mail: reuben(at)complianceonline(dot)com
Website: http://www.complianceonline.com