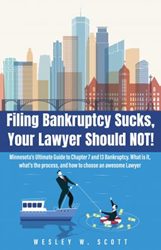 filing bankruptcy is a tool to get your life back
ST. CLOUD, Minn. (PRWEB) January 25, 2018
Within the pages of Wesley W. Scott's new book, Filing Bankruptcy Sucks, Your Lawyer Should Not! readers will find a practical guide to chapter 7 and 13 bankruptcy that answers all their questions about the process in Minnesota. Scott peels back the curtain to help readers understand their situations while taking away the embarrassment and disgrace people often feel around considering bankruptcy. Instead, Scott offers insight through his years of experience helping people navigate the often-confusing legal landscape of recovering their personal finances.
"Bankruptcy could happen to any Minnesotan any time . . . we take the shame away from the stigma of bankruptcy—in fact, filing bankruptcy is a tool to get your life back!" states the author. "Filing bankruptcy results in getting your life back faster than struggling with overwhelming debt for years."
About the Author
Wesley W. Scott is the managing partner at Kain & Scott PA, Minnesota's oldest bankruptcy law firm solely dedicated to chapter 7 and 13 bankruptcy filings. Mr. Scott earned his undergraduate degree from St. Cloud State University and his law degree from William Mitchell College of Law. He comes from a family of nine children and grew up near the tranquil backwaters of the upper Mississippi River in Foley, Minnesota. His previous work includes Find Out What to Expect in Your Bankruptcy Consultation–And Why It Isn't as Scary as You Think and Get the Truth About Debt Consolidation and Bankruptcy, as well as hundreds of blog articles and numerous videos. For more information about the author, contact wscott(at)kainscott.com.