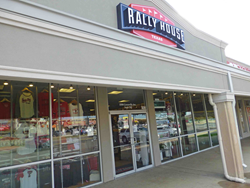 "SuitePOS is simple to set up and it's all managed in our single NetSuite system. We can change product information instantly and POS transactions impact inventory in real-time."
New York, NY (PRWEB) January 24, 2018
SuiteRetail and sports merchandise retailer Rally House, have partnered to pilot the next generation POS system at the retail chain's 60+ locations. SuitePOS, an Apple-based solution that is tightly integrated with NetSuite ERP, will be replacing their current NetSuite POS solution and NetSuite SuiteCommerce In-Store.
Rally House's POS solution was costing a lot of time and money. SuitePOS provided the performance and simplicity needed at the stores with seamless integration to back-office business functions.
Highlights of Rally House's pilot included faster checkout speeds, perfected integration with the NetSuite ERP, promotions that provide instant item level discounts and an inventory function that provides real-time stock checking.
Rally House operates on one system that's built on NetSuite, which easily supports the retail chain's rapid growth. Rally House has over 200,000 SKU's, and thanks to SuiteRetail and SuitePOS, they are delivering an exceptional customer experience with the ability to scale effortlessly.
Due to SuitePOS's success at handling high transaction velocities and large customer/item counts, Rally House will be moving out of the pilot phase and deploying SuitePOS to other locations.
Rally House Customer Story | SuitePOS Video Demo
About SuiteRetail
SuiteRetail helps unify commerce at some of the most modern and sophisticated retail brands in the world. SuitePOS, built on Apple, makes things simple and efficient in your stores and connects you to powerful back-office systems, such as Oracle NetSuite and the Salesforce platform. These systems run your CRM, Marketing, Supply Chain, Inventory, eCommerce and Finance.