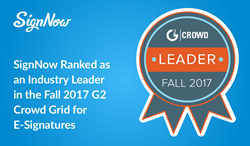 Over 90% of respondents ranked SignNow highest in the categories for "Ease of use", "Ease of setup", "Quality of support" and "Likely to recommend".
NEWPORT BEACH, Calif. (PRWEB) January 24, 2018
SignNow, the complete e-signature platform for businesses, was named "Leader" by G2 Crowd, the leading platform for comparing business solutions via customer reviews. SignNow earned a top spot in the highest quadrant for G2 Crowd's Grid for E-Signatures out of 68 e-signature providers considered.
With more than 350 reviews, SignNow received a high customer satisfaction score with 97% of users rating it 4 or 5 out of 5 stars while achieving a large market presence. This marks the third consecutive year in which SignNow has ranked in the highest quadrants among other market leaders. SignNow was included in G2 Crowd's list of Top 25 Software in the Enterprise Class and Easiest Setup Grid for its intuitive and fully customizable user experience.
In the Fall 2017 Grid, only 30% of all e-signature providers made it to the grid. SignNow also appeared among the top 3 products for deploying e-signatures. Over 90% of respondents ranked SignNow highest in the categories for "Ease of use", "Ease of setup", "Quality of support" and "Likely to recommend".
According to Bright Local's Consumer Review Survey, "85% of customers are likely to trust validated online reviews now as much as personal recommendations," explains Ken Grohe, President, SignNow. "It was crucial for SignNow to gain positive customer feedback on a platform like G2 Crowd as well as earning a Net Promoter Score of 73! We're proud to hear how much customers value SignNow's security (PCI DSS 3.2), intuitive user interface (Award-winning #1 Rated Enterprise Software Product of the Year) and open API customization that allows businesses to streamline and automate their business workflows."
About SignNow
SignNow, with over 45,000 customers and 5.7 million daily users, is a full-featured, easy-to-use, and cost effective e-signature solution. SignNow features an intuitive and popular mobile app for iOS and Android. SignNow is available as an integrated solution for Salesforce, NetSuite, Oracle, SharePoint, Office 365, MicroSoft Dynamics CRM, Box, DropBox, Google Apps for Work and many other platforms. In addition, SignNow offers SaaS as well as public and private cloud deployment options using the same underlying API. This flexibility enables customers to leverage the power and usability of the SignNow e-signature platform while meeting their particular security and compliance requirements.
About G2Crowd
G2 Crowd, the world's leading business software review platform, leverages more than 80,000 user reviews to drive better purchasing decisions. Technology buyers, investors and analysts use the site to compare and select the best software based on peer reviews and synthesized social data. More than a half-million people visit G2 Crowd's site on a monthly basis. Co-founded by the founder and former executives from SaaS leader BigMachines and backed by roughly $12 million in capital, G2 Crowd aims to bring authenticity and transparency to business technology research.
To see the Report for yourself, go to - - http://www.SignNow.com.