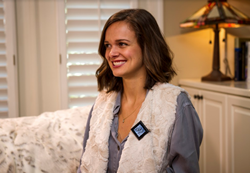 We create a new kind of lifestyle experience and change the way we express ourselves in the environment.
Rabenstein, Austria (PRWEB) January 23, 2018
Austrian startup, Styleables, is creating a new kind of lifestyle experience for consumers. Today, the company introduced their fashion wearable that allows consumers to express their moods, attitudes and style all with the convenience of a smartphone app. Styleables can be worn as a necklace, badge, tie clip or bow tie, while the LED resolution screen displays any image for up to 12 hours. Styleables launched today on Kickstarter in the hopes of raising $30,000 to bring their product to fruition.
Today, wearables are mostly focused on smart features. The team behind Styleables wants to eliminate the chaos and clutter that other wearable tech offers in order to bring the focus back to fashion. No buzzing, no ringing; Styleables aids consumers in expressing their moods and individuality in a tech-savvy way.
The Styleables display is remotely controlled by a smart device and buyers may choose between a metal or plastic frame in black or silver. The device can be worn as a necklace one day, a badge the next, or completely restyled as a neck or bow tie. Styleables were designed using advanced Bluetooth technology to easily control the displayed images. Wearers have the option to choose from over one thousand designs in the Styleables design pattern library. Every image is taken right from a smart device and projected in the highest resolution on a 29x29 mm screen with 320x320 pixels. Additionally, the device offers an extended battery life of up to 12 hours when fully charged.
"Jennie Kwon once said, 'Jewelry has the power to be this one little thing that can make you feel unique.' When I heard this quote, I absolutely agreed and the idea of Styleables was born," said CEO, Christian Zeller. "Studies show that more than 70 percent of the people want to express their personality, individuality and uniqueness with their accessories and this is exactly what we offer. We create a new kind of lifestyle experience and change the way we express ourselves in the environment. Everybody wants to wear a piece that underlines his or her uniqueness, personality, individuality and creativity."
Each Styleables device comes fully equipped with a customizable, full-color display screen. The device features wireless charging capability and interchangeable accessory adapters, allowing consumers to switch from a necklace to a bow tie seamlessly. Backers can take advantage of the 'Urban' plastic frame which comes in black or the 'Fusion' metal frame model which is available in a choice of black or silver. Styleables is now available on Kickstarter starting at $79. To learn more, visit the campaign at bit.ly/StyleablesKS.
About Styleables
Based in Rabenstein, Austria, Styleables was founded nearly two years ago with the idea of a customizable digital device that could be worn not only as jewelry, but a lifestyle wearable.
Styleables is on a mission to offer a new kind of lifestyle experience to the world and help people to express themselves. To learn more, visit http://www.styleables.io/.