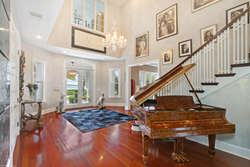 BEVERLY, Mass. (PRWEB) January 28, 2018
Kaminski Auctions is pleased to announce that our February 3rd & 4th, 2018 auction will feature decorative furnishings from the personal collection of Hilary Grinker Musser. Musser is best known for her outstanding interior design firm, HILARY MUSSER INTERIOR DESIGN LLC, in Palm Beach, FL. Formerly located in Philadelphia, PA, and Nantucket, MA, Musser's work has featured in House Beautiful and Home and Garden Nantucket magazines as well as gracing the cover of Country Living magazine. Her clientele extends from Main Line Philadelphia homes to Nantucket and Palm Beach as well as St. Thomas, Virgin Islands.
Specializing in European and Early American antiques, Hilary for many years had an antique shop, "Federal Antiques" at 20 Federal Street in Nantucket, MA. She participated in the Design Show House to benefit Vassar College in Poughkeepsie, New York.
Top lots in the auction include an exceptional Steinway & Sons Louis XVI style grand piano that graced the foyer of the Musser home in Bryn Mawr, Pennsylvania and played on many occasions by Peter Nero, a frequent guest. This magnificent piano is executed in exotic woods such as burlwood, walnut, satinwood, fruitwood, and mother-of-pearl, with inlaid cupids, floral decorations, and musical instruments. Model number 0, serial number 212971-VR1936, Number 2257, it also has a CD-installed player feature.
Artwork from the collection includes a bronze sculpture by Daro Flood, titled "Desert Water". Flood is a realist sculpture best known for his work of American Indians of the western United States. His studio is in Arizona, and he has received many commissions for public art installations. "Desert Water" depicts an Indian grouping and is displayed on a wooden base. The piece is signed with a with foundry mark and measures 43 1/2inches by 28 inches by 24". Paintings in the collection include a large B.J. Faulkner (American), oil painting titled 'Ballroom Scene' of vivid, bold coloration and measuring framed 54 inches by 77 inches framed.
An avid collector of Majolica pottery, Ms. Musser at one time had one of the finest collections in the world. Stunning examples from the collection include a large 19th-century, signed Choisy-le-Roi majolica rooster-form vase, a 19th-century English George Jones cheese keep with figural cow finial and a 19th-century Scroddleware figural steer wine cask are among the numerous pottery pieces on offer in the auction. An important pair of Delphin Massier pottery vases with figural butterfly handles that were purchased from Fond de la Cour Gallery, Paris and at one time exhibited in the Louvre, Paris is indicative of the quality of the porcelain in the sale.
European furniture highlights include an 18th-century hand paint-decorated Italian marble top chest, a circa 1930's mirrored dresser with etched floral design and bows with crystal handles and gold painted cabriole legs and a 19th-century French ebonized Boulle inlaid center table with four carved figural wing legs.
Contemporary collectors will find an array of furniture designed by the renowned British luxury furniture designer Christopher Guy Harrison. The collection includes a midcentury-style upholstered sofa designed by Christopher Guy in grey with red pinstriped, a contemporary Rococo silver leaf mirror, and spectacular white-lacquered dining set with glass-top table. The set includes five chairs with grey suede seats and is labeled "Made for Style Forum, Christopher Guy." There is also a pair of Christopher Guy designed contemporary upholstered red velvet wing chairs with ebonized trim and a Christopher Guy lacquered coffee table with oval stool designed for Ms. Musser's West Palm Beach home.
Among the many highlights of this exciting sale is a selection of very high-end lighting fixtures from well-known NYC antique dealers. They include a pair of mid-20th-century Italian glass wall sconces from John Salibello Lighting and Antiques of New York City, NY, several pairs of mid-century Murano type wall sconces and a spectacular Art Deco, brass and glass chandelier from David Duncan Antiques, New York, NY.
This auction will be held Saturday, February, 3 & 4, 2018 at the Kaminski Auctions gallery at 117 Elliott Street Rt. 62, Beverly, Massachusetts starting at 10:00 EST. Preview days are Monday– Friday, January 29th- February 2nd, 10:00 am-5:00 pm and days of the sales starting at 8:00 am. For more information, http://www.kaminskiauctions.com and sign up to bid with KaminskiLIVE.