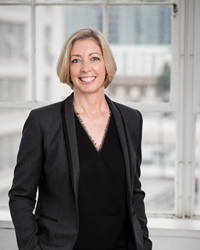 LOS ANGELES (PRWEB) January 23, 2018
United Way of Greater Los Angeles today announced that Erika Anderson has joined as the newest member of the Executive Team. Erika will take on the role of Chief Development Officer and will be responsible for building new models for fundraising, donor engagement, and strategic partnerships. She will oversee the Development department with a staff of 25.
Anderson most recently served as President & Publisher of the Los Angeles Magazine Media Portfolio where she led brand communication – uniting messaging to employees, clients, subscribers, and digital users – managed all business operations and financial planning, and achieved successes that transitioned the Los Angeles Magazine brand to a fully integrated media portfolio. She brings to United Way more than 20 years of experience in strategic planning, business development, digital growth, event production, branded content, operations, and public speaking.
"Erika is a strategic leader who has proven experience creating innovative and successful solutions within every company she joins," said Elise Buik, President & CEO of United Way of Greater Los Angeles. "It wasn't just her wide array of experience that made her an ideal choice for Chief Development Officer, it was her passion for creating great change both inside companies and outside in the community. We look forward to her leadership as we continue to fight to end homelessness and poverty in L.A. County."
Prior to joining Los Angeles Magazine in 2010, Anderson also served as West Coast Director of LIFE Magazine, Los Angeles Manager at GOLF Magazine, and Advertising Director at Emmis Communications.
"I have deep respect for the vision of the leadership team and the impactful work of United Way of Greater Los Angeles," she said. "As the organization is poised for great future momentum, I look forward to working with the team to increase opportunities for individuals and companies to fund innovative solutions to our region's most pressing needs."
Outside of her work at United Way, Anderson is also the Co-Chair of Communications for the Organization of Women Executives. She's passionate about paving the way in leadership and philanthropy for her two daughters, most recently participating in the second ever Women's March Los Angeles alongside the United Way team.
Anderson served on United Way's board from 2016 to 2017. She officially joined the organization at its headquarters in Downtown L.A. on January 22.
About United Way Greater Los Angeles:
United Way of Greater Los Angeles is a nonprofit organization fighting to end homelessness and poverty by providing students with support needed to graduate high school prepared for college and the workforce, providing housing for our homeless neighbors, and helping hard-working families become financially stable. United Way identifies the root causes of poverty and works strategically to solve them by building alliances across all sectors, funding targeted programs and advocating for change. For more information, visit http://www.unitedwayla.org.