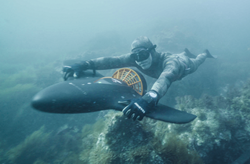 The AquaJet H2 features revolutionary wings modeled after those found on the most aerodynamic planes, which allows it to fly through the water with ease
LOS ANGELES (PRWEB) January 25, 2018
Hoverstar Flight Technology Inc., a leader in the research, development, production and marketing of water sports equipment, has introduced the new AquaJet H2 on Kickstarter– a motorized underwater scooter with wings developed with divers, snorkelers and fun in mind.
AquaJet H2 allows users to experience gliding through the water on the surface and underwater, whether they're diving, snorkeling or simply swimming with friends and family.
According to Hoverstar founder and CEO Edward Liu, AquaJet H2 combines modern technology with intelligent design to create a diving experience unheard of before in the world of diver propulsion vehicles (DPVs) – diving equipment used by scuba divers to increase their range underwater.
"Many of us dream of the freedom that a dolphin feels surfing ocean waves, and now the everyday diver or snorkeler can experience that thrill with the AquaJet H2," Liu said. "The AquaJet H2 features revolutionary wings modeled after those found on the most aerodynamic planes, which allows it to fly through the water with ease."
The aircraft-style wings give the AquaJet H2 a sleek appearance while reducing water resistance, resulting in great balance and reducing friction and drag. To offset the torque generated from the rotation of the motor and propeller, the tail's bottom grille board features an arch shape design that also provides maximum horizontal stability and a smooth control experience for the diver.
Liu said his team developed a smart internal motor to drive the AquaJet H2 with variable speeds and advanced safety controls.
Winner of the 2017 Diving Resort Travel Expo Best Design Award, AquaJet H2's features an intelligent controlled motor, which provides the fastest and high performance. The motor of the AquaJet H2 is more powerful than any other underwater scooter, making it strong enough to carry four people at once, and offers three variable speeds for users to control via the right wing – with the top speed maxing out at 5.6 mph (9km/h).
"While the motor is powerful enough to ride along the ocean, something other DPVs can't do, it's also extremely quiet and doesn't disrupt any surrounding ocean life," Liu said.
The left-hand switch controls acceleration and the right-hand switch controls the speed. Once users have control of the speed, subtle tilts of the wings are all that's necessary to adjust the direction of the AquaJet H2.
AquaJet H2 delivers with extra-long battery life, with a long charge life of over 100 minutes between charges – allowing for more underwater and ocean surfing fun without the need to find a power source.
Even when the battery is dead, the AquaJet H2 will float on its own, helping to guide riders from the depths to the air quickly. It is also equipped with positive buoyancy – which allows divers to make a quick ascent to the surface in case of emergency, or if the rider needs a breath of fresh air.
In rescue situations, AquaJet H2 can also function as a floatation device to support swimmers while waiting for help to arrive.
AquaJet H2 also includes a GoPro Mount to capture super-smooth footage.
"All of these unique features, including protective grilles that protect fingers from the fast-spinning propeller while diving and an anti-blocking motor that switches off immediately if an object gets caught in the propeller, were developed by our experienced team to ensure the AquaJet provides not only a fun diving experience, but an incredibly safe experience for everyone -- and with a minimal learning curve," Liu said.
For more information, or to purchase the Hoverstar AquaJet H2 at a super early-bird discount starting at $799, visit the campaign page on Kickstarter.
About Hoverstar
Hoverstar Flight Technology Inc., was founded in 2016 and is committed to the research and development, production and marketing of water sports equipment and innovative manned miniature flying vehicle. In less than one year, HOVERSTAR has obtained more than 30 invention patents. To maintain the company's focus on innovation and vitality, HOVERSTAR holds "Hoverstar Cup'' Creative Design Contest at well-known universities.
For more information, visit http://www.hoverstar.com or https://www.kickstarter.com/projects/1956987047/aquajet-h2-an-aerodynamic-sea-scooter-for-everyone