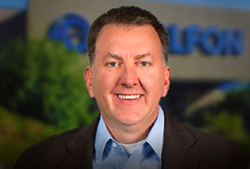 (PRWEB) January 24, 2018
Qualfon, a mission-driven business process outsourcing (BPO) company and global provider of contact center services, announced the hiring of Mike Jossi as Qualfon's new Chief Person Officer, reporting directly to Mike Marrow, CEO.
Mr. Jossi comes to Qualfon from VXI, a global BPO provider with 28,000 employees, where he held the role of Senior Vice President of Human Resources. Prior to VXI, Mr. Jossi was the Chief People Officer of Ping Identity. In his tenure with VXI, he focused on improving the recruiting function, created the company's first leadership development program for the management, and played a critical role in improving employee engagement. His team had the responsibility of hiring the majority of Ping's executive team and over 50% of Ping's workforce, before the sale of the company to a private equity firm in 2016.
Additionally, Mr. Jossi served as the Executive Vice President of Human Capital and other Human Resources roles with TeleTech Holdings, a global BPO company with more than 50,000 employees from 2005 to 2013. He and his team optimized TeleTech's HR functions and focused on improving all facets of the employee lifecycle and culture. With an emphasis on improving the employee experience, his teams successfully launched the company's first applicant tracking system to ensure the company was getting the best talent, the company's first virtual university to enable the best training experience, and a global performance management methodology and system to drive employee performance and engagement. While at TeleTech, Mr. Jossi's team successfully hired and onboarded over 150,000 employees.
Before joining TeleTech, Mr. Jossi founded and led Active Education, a venture-backed learning services company from 1998 to January 2005. Active Education provided online education products and services to companies like Microsoft, Skillsoft, and Deloitte, who awarded Mr. Jossi and his teams their Fast 50 Award for leading one of the fastest growing companies in Colorado for five consecutive years.
About Qualfon
Qualfon is a mission-driven BPO company and a global provider of contact center services and back-office processing. With experienced BPO leadership and a strong track record of business growth dating back to our founding in 1995, Qualfon helps companies reduce costs and deliver superior customer experiences. Today, we have approximately 16,500 employees serving international brands across many industries, and our intelligent outsourcing locations span the United States, the Philippines, Guyana S.A., Costa Rico, and Mexico. Qualfon's mission to "Be the Best BPO, Make People's Lives Better" means we invest in our people and, in return, they take better care of you and your customers. Qualfon's employee retention regularly exceeds the industry average, which creates a people-driven value chain: Our employees stay longer, providing you a higher quality service at a lower price.