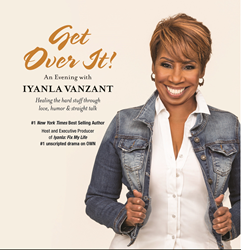 LOS ANGELES (PRWEB) January 24, 2018
Iyanla Vanzant, internationally acclaimed Spiritual Life Coach, New York Times Best-Selling Author, and Emmy-winning television personality, has partnered with Mills Entertainment, the leading producer of alternative and branded live entertainment, to bring "Get Over It!: An Evening with Iyanla Vanzant," a life-changing interactive production, live to stages across the country.
In celebration of her 18th book, Get Over It! Thought Therapy for Healing the Hard Stuff (release date: February 6, 2018), Iyanla will travel to select cities on her first solo tour in 18 years. This national tour will bring the beloved thought leader up-close and in-person to her dedicated fans for a life-changing evening. Using the book as a teaching tool, Iyanla will introduce the spiritual principles behind thought therapy with love, humor, and her signature straight-talk. This interactive learning experience, filled with meditative moments and self-reflection will enable audience members to discover the habitual negative thought patterns that often block them from living their best lives.
Select and willing audience members will be invited to join Iyanla on-stage to identify and address the hidden barriers that often sabotage the expression of their true light. These participants will gain a renewed sense of personal power and come one step closer to fulfilling their life's destiny.
"Throughout her storied and impactful career, Iyanla Vanzant has gifted the world with her unique solutions to universal problems," said Mike Mills, President, Mills Entertainment. "We are excited to partner with Iyanla to launch what we believe will be the highly-successful expansion of Iyanla Vanzant's brand into the live space."
Best known for her role as a Life Coach on the hit show Starting Over, best-selling books, and her numerous appearances on The Oprah Winfrey Show, Iyanla is the host and executive producer of "Iyanla: Fix My Life," the number one unscripted show on OWN: Oprah Winfrey Network (#1 original series on all of TV broadcast and cable among African American Women 25-54 and Women 18+). As an accomplished writer, Iyanla has published eighteen books, including 6 New York Times best-sellers.
"I am thrilled to launch my first solo national tour in 18 years with Mills Entertainment. In each city that we visit, it is my intention to leave every audience member empowered with the tools to change habitually negative thought patterns," says Iyanla. "For the truth is simple: anything and everything we experience is a function of what and how we think. Unfortunately, our habitual negative thought patterns make finding our joy, peace, purpose, and the truth much harder than it needs to be. It is time to Get Over It!—and to end our resistance to healing the hard stuff."
A schedule of tour cities and dates can be found at http://iyanlavanzantlive.com/.
Tickets and VIP packages, including an autographed book, go on sale on January 30th at 10:00 a.m. local time at http://iyanlavanzantlive.com/.
The book, Get Over It! Thought Therapy for Healing the Hard Stuff is available for pre-order now at http://go.hayhouse.com/get-over-it.
About Iyanla Vanzant
From welfare mother to New York Times best-selling author; from the Brooklyn projects to Emmy Award and NAACP Image Award winner; from broken pieces to peace; Iyanla Vanzant had defied all the odds. She is one of the country's most celebrated writers, public speakers, and among the most influential, socially engaged, and acclaimed spiritual life coaches of our time. Dedicated to facilitating the growth and evolution of human consciousness, Iyanla's body of work spans over three decades and includes 18 published books, six New York Times best-sellers (translated into 23 languages and with sales exceeding twelve million copies), CDs, television, radio and stage performances.
About Mills Entertainment
Mills Entertainment collaborates with top networks, agencies, and licensors to create original, world-class live experiences. With full global distribution and partnerships worldwide, Mills Entertainment takes shows from concept to stage, serving as a complete solution in realizing the vision. In April 2015, Creative Artists Agency (CAA) made an equity investment in Mills Entertainment. Current projects include Theresa Caputo Live! The Experience, Mel Brooks: Back in the Saddle Again, Bring It! Live, #IMOMSOHARD, Daniel Tiger's Neighborhood Live!, and HGTV presents The Scott Brothers House Party. http://www.millsentertainment.com