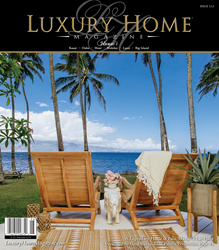 LHM Hawai'i's incredible performance marks a thirteen-year milestone for our organization and is a testament to the importance of such a resource for our clients.
EL DORADO HILLS, CA (PRWEB) January 25, 2018
The latest release of Luxury Home Magazine Hawai'i is easily one of its largest publications reflecting quintessential island style and the finest Hawai'i luxury real estate. The coveted "Cover Home" featured on issue 12.6 was selected by the LHM Hawai'i team illustrating the level of value and elevated standards that luxury specialists have come to expect. Represented by Greg Burns with Elite Pacific Properties, this one-acre oceanfront villa in Paia, Maui is the perfect example of the commitment to excellence synonymous with the LHM brand.
Luxury Home Magazine Hawai'i was established as a niche publication in 2006, one of the first magazines launched as part of a national expansion effort by Luxury Home Magazine (LHM). LHM Hawai'i showcases a distinguished collection of waterfront, view, golf course, condo, town-home and rental properties representing the islands of Oahu, Maui, Kauai and The Big Island. View the current digital edition of Luxury Home Magazine Hawai'i where you can browse the entire magazine on any device.
Since its inception in 2006, LHM Hawai'i has shown consistent growth and performance dominating market-share while offering proven results for its client community. LHM Hawai'i provides a competitive advantage to Realtors as a complete marketing solution. Published bi-monthly, it circulates via direct mail and targeted distribution with digital and social media platform presence. The publication has firmly established a trusted brand and impeccable reputation with a magazine often referred to as the "Coffee Table Magazine" due to its distinctive size and high quality.
According to Brad Taylor, CEO, Luxury Home Magazine (LHM), "LHM Hawai'i's incredible performance marks a thirteen-year milestone for our organization and is a testament to the importance of such a resource for our clients. I wish to acknowledge the outstanding achievement of LHM Hawai'i Publisher, Torey Lam and his team as they continue to guide the publication with true intentional success."
About Luxury Home Magazine (LHM)
Established in 2002, Luxury Home Magazine is a niche publication and media company representing the largest network of market-specific magazines featuring luxury homes, luxury real estate, luxury specialists, products and services. With coverage in over 22 national markets, LHM targets an affluent and influential demographic that captures a local, regional, national and international audience. Luxury Home Magazine (LHM), is a division of Sunshine Publications, Inc.: LHM Media Group. http://www.luxuryhomemagazine.com