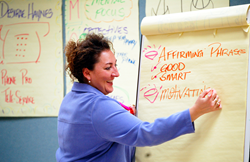 Bonfire has an amazing and diverse clientele and we focus on helping each one of them deliver the best service for their clients while enhancing a vibrant culture within their company - that is our purpose and it's what excites us!"
Carmel, Indiana (PRWEB) January 24, 2018
Bonfire's Emphasis on Comprehensive Customer Service and Management Training Seen as Part of Clark Public Utilities' Enduring Commitment to Excellence
Customer service and management Trainers at Bonfire Training Company recently announced that their client Clark Public Utilities has been recognized by independent analysts at J.D. Power as the leading midsize Western utility company for customer service satisfaction scores in 2017. J.D. Power notes that this is the tenth consecutive year Clark Public Utilities has received this award. Multiple utility industry experts queried felt that this designation cemented Clark Public Utilities reputation among their local consumers as a trusted, reliable brand that was integral to the well-being of their communities.
Among Clark Public Utilities strategies to facilitate delivery of consistent and superior customer service has been a close association with Bonfire Training, an Indiana-based company that offers personalized training services to organizations of all sizes across the United States and internationally. Bonfire programs are focused around customizable training provided on site or via webinar on topics ranging from management leadership and coaching to effective conflict resolution, as well as the essentials of customer service across phone, face-to-face, email, social media and chat.
With Trainers focused on the unique challenges and culture of each company with whom they work, Bonfire Training reports significant gains among their clients in customer satisfaction and indeed, success within the marketplace. Moreover, as one Trainer adds, it's clear that internal employee satisfaction among their clients is also demonstrably improved, as teams learn how to utilize practical techniques of effective, straightforward and win-win communication with one another, as well as with their customers.
Lisa Raven, CEO of Bonfire Training, says she is very pleased by the Clark Public Utilities award, noting Clark Public Utilities employees have consistently demonstrated their willingness to implement Bonfire's transformative communication techniques across every area of their business.
"It's no surprise to me that Clark Public Utilities has once again been recognized as a leader within their industry. They have been our client for well over a decade, they've embraced Bonfire's communication techniques and have consistently secured a top spot in their industry. Bonfire has an amazing and diverse clientele and we focus on helping each one of them deliver the best service for their clients while enhancing a vibrant culture within their company - that is our purpose and it's what excites us!"
Clearly, Bonfire Training staff are themselves driven by the pursuit of excellence in their stated mission "to improve lives and transform relationships through positive communication and helping people to be their best, on purpose, every time." Indeed, training industry pundits say that the company's continued growth is to be expected, as Bonfire assumes national prominence in their role as communications, customer service and leadership trainers.