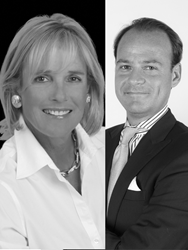 PALM BEACH, Fla. (PRWEB) January 24, 2018
Haute Residence welcomes prominent real estate agents, Liza Pulitzer and Whitney McGurk to its invitation-only network of top brokers. As Haute Residence partners, Pulitzer and McGurk exclusively represent the high-end real estate market in Palm Beach, Florida.
Liza Pulitzer's family has roots to Palm Beach going back to 1925, when her grandfather first settled here. Every Pulitzer generation since then has called Palm Beach home and her mother, Lilly Pulitzer, is a Palm Beach icon.
For over 30 years, Pulitzer has been a dominant force in the local real estate market. Her partner, Whitney McGurk, was also born and raised in Palm Beach and is a second generation real estate agent on the island. He brings a wealth of marketing and sale experience to every property they work on.
Affiliated with Brown Harris Stevens, Pulitzer and McGurk have become one of Palm Beach's most respected real estate teams. Within the last year, since forming their partnership, they have exceeded $40 million in sales. Pulitzer and McGurk are often recognized for being able to find their clients properties that are currently not on the market and for working discreetly with buyers and sellers to facilitate a sale. The team also has a serious track record when it comes to successfully listing, marketing and selling properties. Their marketing strategy is global with the emphasis on exposure through social media and local networking.
About Haute Residence:
Designed as a partnership-driven luxury real estate portal, Haute Residence connects its affluent readers with top real estate professionals, while offering the latest in real estate news, showcasing the world's most extraordinary residences on the market and sharing expert advice from its knowledgeable and experienced real estate partners.
The invitation-only luxury real estate network, which partners with just one agent in every market, unites a distinguished collective of leading real estate agents and brokers and highlights the most extravagant properties in leading markets around the globe for affluent buyers, sellers, and real estate enthusiasts.
HauteResidence.com has grown to be the number one news source for million-dollar listings, high-end residential developments, celebrity real estate, and more.
Access all of this information and more by visiting: http://www.hauteresidence.com