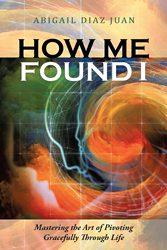 SAN JOSE, Calif. (PRWEB) January 29, 2018
A global citizen, entrepreneur and Sherpa guide has released her revolutionary approach to re-discovering the self, re-defining the way life is meant to be lived and revitalizing personal potential and purpose.
In "How Me Found I,' author Abigail Diaz Juan emphasizes the use of fear as a transformative experience and equips readers with the necessary skills to turn moments of negativity into opportunities for spiritual development, personal empowerment and ultimate fulfillment in life as they move forward toward their desired and natural reality.
"'How Me Found I' speaks to a new normal of abundance intended to override our current socially conditioned mental state of fear-driven poverty," Juan said. "It is now my life mission to spread the words contained in this book so that everyone can find their own 'I,' and in the process, each become a point of light able to change our world for the betterment of all humanity."
"Abigail Diaz Juan writes with the confidence of an expert who has lived the message she is passing across to readers," Readers' Favorite reviewer Arya Fomonyuy wrote about the book in a five-star review. "… Here is a book for fans of New Age literature, readers who want to awaken spiritually, and anyone who wants to live a fulfilling and meaningful life. It's a gift to receive, use, and pass on."
Inspired and guided by Juan's own journey through burn-out, life transitions and spiritual rebirth, "How Me Found I" encourages readers to reject the status quo of life, become aware of and harness their personal power and transform their reality to one that is desirable, natural and fulfilling.
"How Me Found I: Mastering the Art of Pivoting Gracefully Through Life"
By Abigail Diaz Juan
ISBN: 978-1-5043-0846-5 (paperback); 978-1-5043-0847-2 (electronic)
Available at the Balboa Press Online Bookstore, Barnes & Noble and Amazon
About the author
Abigail Diaz Juan is a global citizen, world traveler, entrepreneur, Sherpa guide and the founder of the Diamond Quest Company. The daughter of a diplomat in Afghanistan, Juan experienced great prosperity in her early career in international finance, marketing and business strategy. After a spontaneous kundalini awakening, Juan's professional success gave way to her spiritual quest for deeper understanding of the Universe as well as her passion for helping others on their own journey to personal fulfillment. Her next book is slated for release in 2019. To learn more, please visit http://www.mydiamondquest.net.
Review Copies & Interview Requests:
LAVIDGE – Phoenix
480-648-7557
dgrobmeier@lavidge.com
General Inquiries:
LAVIDGE – Phoenix
480-998-2600 x 584
mdriver@lavidge.com